5 Things that Make Morro Bay State Park a Great Place to Visit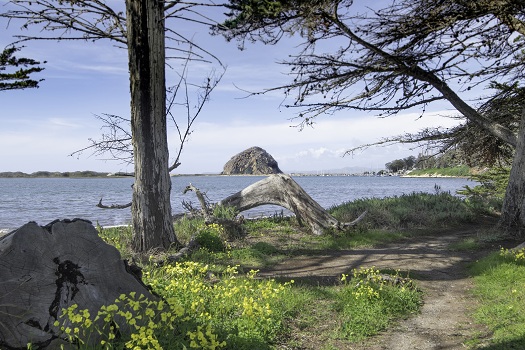 Nestled along the coast of central California, Morro Bay State Park is a vacation spot that's sure to please. With six miles of beach access, a richly developed trail system, its own marina, and many other features that offer opportunities to enjoy a variety of activities, this park has something for everyone. Because of its idyllic location and abundant wildlife, it's no wonder Morro Bay State Park has been a favorite tourist destination for nearly 150 years. Here are just a few of the reasons to visit Morro Bay State Park, suggested by the friendly staff from Ascot Suites, a charming Morro Bay hotel that's a top choice among visitors to the California Central Coast.
1. Bird-Watching
Morro Bay State Park is one of the best spots in the country to watch birds. Tens of thousands of birds migrate here each year to escape the cold winter weather of their northern habitats. Additionally, the area is home to nearly a third of California's western snowy plovers, a species considered threatened by the Audubon Society. Committed birders will enjoy visiting during the area's Annual Winter Bird Festival.
2. History
The Morro Bay area was inhabited for millennia before the first European explorers made contact in 1769. The state park's Museum of Natural History gives visitors a chance to learn about the area's rich past. In addition to enjoying lectures about local history, visitors can learn about the lives of the area's first residents with hands-on activities and scheduled events. The museum also features displays about topics like oceanography, geology, and how humans have impacted the area.
3. Golfing
Famous among passionate golfers, the Morro Bay Golf Course is also known as "Poor Man's Pebble Beach." This course's hilly terrain is sure to challenge even the most experienced golfer. The stunning views of the ocean and bay from each of the course's 18 holes make completing the course worth the effort. Amenities available at this public club include lessons from skilled instructors, a well-equipped pro shop, and exceptional dining at the bar and grill.
4. Water Sports
The park's seemingly endless waterfront makes it easy for visitors to enjoy a variety of water sports that go well beyond swimming and surfing. A conveniently located marina gives people a place to park their watercraft as well as the opportunity to rent canoes and kayaks. Exploring the bay by boat is a wonderful way to experience the local wildlife up close, but it's important for visitors to remember the bay has tides.
5. Morro Rock
No visit to Morro Bay State Park would be complete without stopping by the park's most famous landmark. This distinctive outcropping belongs to the Nine Sisters chain of volcanic peaks and is a nesting ground for the protected peregrine falcon. Visitors can drive to the base of this breathtaking formation to enjoy its beauty up close, but climbing on the rock itself is against the law.
Morro Bay State Park provides endless adventures for the whole family to enjoy, so reserve your room or suite today at Ascot Suites, one of the most comfortable Morro Bay hotels available. Our English-style rooms welcome guests for any occasion, whether it's a family vacation or a romantic getaway. Relax and enjoy the coastal breeze on our peaceful rooftop sundeck with stunning views of Morro Bay and Morro Rock, snuggle up in front of your fireplace, lounge the day away on your balcony, or enjoy a long soak in your deep jetted tub. To find out more about our exceptional accommodations and reserve your room, call us today at 800-887-6454.