6 Reasons to Be Enthused about Your Visit to Morro Bay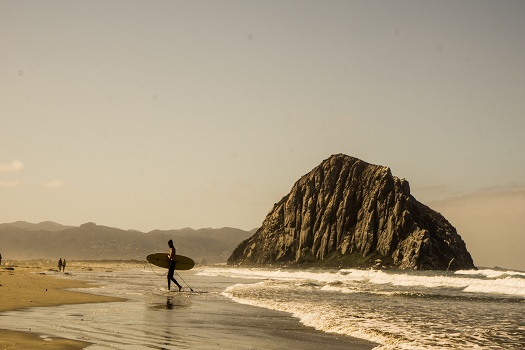 Morro Bay, a gorgeous Central California Coast city located about a three-hour drive from both San Francisco and Los Angeles, is an ideal vacation paradise with exquisite views of the Pacific Ocean, idyllic weather, and no shortage of ways to have fun. Here are just a few reasons you should be excited about your trip to Morro Bay, brought to you by the friendly staff from Ascot Suites, a charming boutique hotel in Morro Bay you'll want to return to again and again.
1. Wildlife & Scenery
In Morro Bay, you'll find endless opportunities to enjoy splendid scenery and observe local wildlife. Visitors can see all sorts of marine life—including sea lions, sea otters, and seals—in the harbor all year long. You can even rent kayaks to get a closer look at the sea lions. In addition, whale-spotting sailing expeditions are available throughout the year.
If you're an avid bird-watcher, you'll love the opportunity to spot a variety of unique birds in Morro Bay, including Anna's hummingbirds, eared grebes, green herons, and snowy egrets. Morro Bay is a favorite stopping point for migratory birds, so if you visit in the winter, you'll see the greatest variety of birds as well as monarch butterflies on their yearly migration journey.
2. Beaches
Your trip to Morro Bay won't be complete without taking the time to explore its miles of pristine coastline. At Morro Strand State Beach, one of the city's most popular places to visit, you'll find the perfect spot for soaking up the abundant California sunshine. At this beach, you'll also find clear views of the iconic Morro Rock, a 576-foot-tall volcanic plug near the shore that's been nicknamed the "Gibraltar of the Pacific."
Stroll along the beaches and let nature revitalize your spirit. You may be fortunate enough to spot wildlife such as sea lions and sea otters along the way, and if you visit the beach at low tide, you can have fun trying to catch a glimpse of marine life in the tide pools.
3. Seafood
Fishing is one of the top outdoor activities in Morro Bay, and the local dining culture features seafood prominently. Commercial fishermen arrive in the harbor every day with their catches, so make sure to check out the local eateries for some delicious fresh seafood. Whether you prefer oysters, scallops, or old-fashioned fish and chips, you're sure to find the perfect dish to satisfy your appetite. If you're looking for recommendations, try Windows on the Water and the Galley Seafood Grill & Bar, two of the most popular seafood restaurants in town.
4. Black Hill Trail
If you're in the mood for an easy, enjoyable hike when you visit, check out this trail. You can complete this hike in less than 20 minutes, and at the end of Black Hill Trail, you'll find breathtaking views of Estero Bay and the whole city.
5. Centennial Parkway
Centennial Parkway is a charming little park that's perfect for taking a break while you're exploring all there is to see in Morro Bay. Grab some take-out lunch from a local eatery, relax and enjoy your meal at one of the park's picnic tables, and laugh at the antics of kids playing on the life-sized chessboard. When you're done with your picnic, stroll to the nearby boutique shops, where you can find souvenirs and gifts to take home with you.
6. Climate
Morro Bay's year-round mild climate is one of the main reasons it's such a popular West Coast tourist destination. With its quaint, relaxing vibe and location between San Francisco and Los Angeles, Morro Bay attracts visitors from both metropolitan areas. Some of the most popular activities you can enjoy any time of year include golfing, boating, surfing, hiking, and biking.
No matter what kind of getaway you're looking for, Morro Bay is the ideal spot. Whether you're celebrating an anniversary with your sweetheart or enjoying a vacation with the whole family, you'll find the perfect blend of elegance, comfort, and relaxing atmosphere at Ascot Suites. From rooms with cozy fireplaces and balconies featuring views of the bay to the rooftop sun deck overlooking Morro Rock, we can provide you with everything you need for a perfect trip. If you'd like to reserve a room at one of the most charming Morro Bay hotels available, call us today at 800-887-6454.