Top Reasons to Visit Morro Bay in Autumn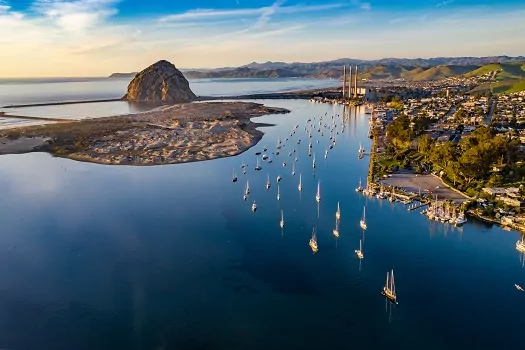 Traveling to Morro Bay is always well worth the trip, and there are many benefits to take advantage of during the fall season. The weather is still warm, and the fall colors start to come out more as the weather cools down a bit during what's known as a second summer to many visitors. Continue reading to learn about the reasons to travel to Morro Bay during the fall season, brought to you by the friendly team at Ascot Suites, an elegant boutique hotel Morro Bay visitors return to again and again for its relaxed charm and ideal location within walking distance of a wide array of restaurants, shops, galleries, and entertainment.
The Scenery
Like most travelers, you want to go to Morro Bay to take advantage of the daytime activities instead of staying indoors until the weather cools down. While there's always something fun to do during the warmer months, you could miss out on many attractions, such as a Morro Bay cruise, by staying inside because of hot temperatures. However, if you plan your trip in the fall, the warm but more pleasant weather allows you to enjoy the daytime scenery along with incredible sunsets. You can take one of the many boat tours and marvel at the various creatures, including sea lions, herons, otters, and dolphins.
Smaller Crowds
With school back in session and most people back to regular work schedules, you have more time to enjoy Morro Bay's many attractions, including historical sites, restaurants, and the boardwalk. You can take a stroll on the Embarcadero when it isn't congested and overcrowded. Here, you can watch the wildlife and visit the many unique shops, including art galleries, souvenir shops, and bookstores. With smaller crowds, you'll have easier access to attractions on the boardwalk so you can truly take the time to enjoy all the area has to offer.
Canoeing
The best time of year to go on a canoeing or kayaking adventure in Morro Bay is during the fall season. The fall foliage features brilliant colors, and there are often fewer insects, making outdoor activities less frustrating. However, you should continue to dress accordingly. Lightweight jackets, pants, hoodies, long-sleeved shirts, and hats are often the most comfortable attire to pack.
Fall Festivals
Skipping the traffic and crowds is just one of the many benefits of visiting sites like Morro Strand State Beach during your fall trip. However, the best benefit may be the many fall festivals you can take advantage of, whether you're traveling alone or with family and friends. You can choose from bird festivals, craft shows and fairs, harbor festivals, and more. During the autumn months, you can go to these events and enjoy music, food, and cultural displays. Many of these celebrations take place on the beach, giving you more seaside adventures to enjoy in addition to traditional beach activities such as swimming, surfing, and picnicking.
Start planning your Morro Bay fall vacation now by reserving a room or suite at Ascot Suites, one of the most comfortable and ideally located Morro Bay hotels. The elegant English-style décor of our rooms welcomes guests for any occasion, whether it's a romantic getaway or a family vacation. Relax and enjoy the coastal breeze on our tranquil rooftop sundeck with stunning views of Morro Bay and Morro Rock, snuggle up in front of your fireplace, lounge the day away on your balcony, or enjoy a long soak in your deep jetted tub. To find out more about our exceptional accommodations and reserve your room, call us today at 800-887-6454.