What Makes Morro Bay Appealing for Visitors?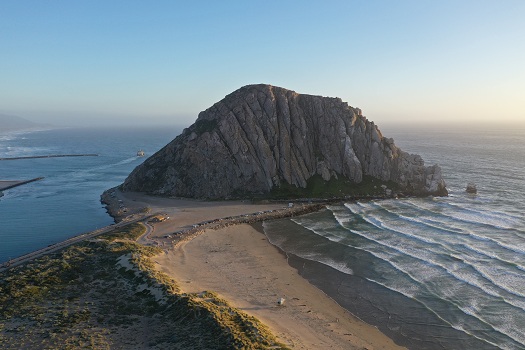 The coastal region of California is filled with nice places to visit. Some happen to be nicer than others, and this is certainly the case with Morro Bay, a sleepy fishing village that's part of San Luis Obispo County. It's safe to say Morro Bay isn't just a nice tourist destination. It's actually spectacular and fully deserving of repeat visits. Here are just a few of the reasons Morro Bay has become one of the most desirable places to visit on the central coast of California, brought to you by the people who know the area best, the welcoming staff at Ascot Suites. People who are looking for the top Morro Bay hotels will love our hotel's elegant charm, and we're just a short walk from the area's finest restaurants, shops, galleries, and entertainment.
Morro Rock
This amazing natural attraction is the reason Morro Bay is referred to as the Gibraltar of California. Geologists estimate Morro Rock originated as the result of heavy volcanic activity more than 20 million years ago, and it does bear a strong resemblance to the Rock of Gibraltar. There's also the placid Mediterranean climate to account for this similarity. Local residents will tell you they never grow tired of looking at the majestic Morro Rock, which you can see from the shore and from a few waterfront bistros and cafés.
Outdoor Family Fun
All of San Luis Obispo can be described as a family-friendly destination, but Morro Bay fits this description even better. Black Hill Trail and Cerro Cabrillo State Park offer plenty of hiking trails and scenic spots where you can see Morro Rock and the bay from above. These parks always organize fun activities, such as Easter egg hunts, Christmas hayrides, and guided tours to the coves where sea lions rest.
Seaside Golf
Anyone who is into golf knows the most pleasant courses are those where nice ocean views can be enjoyed while you play. The Morro Bay Golf Course has been compared to Pebble Beach minus the outrageous fees, and it offers panoramic vistas of the Pacific Ocean and part of the Nine Sisters mountain range.
Hearst Castle
Hearst Castle is about 30 minutes away from Morro Bay. This museum sits on 147 acres of pristine California land, and it's a must-visit for anyone who wants to learn more about the life of the enigmatic William Randolph Hearst and his amazing collection of fine artworks from around the world.
Water Activities
Morro Bay offers surfers quite a few exciting breaks that range from the gentle to the dangerous, but this isn't the only aquatic adventure you can get into when you visit. Thousands of tourists come here every season for boating, fishing, kayaking, and water tours.
If you're searching for an incredible vacation destination, you're sure to love Morro Bay. Whether you're celebrating an anniversary with your loved one or you're simply taking a few days away to relax and rejuvenate, you'll be amazed by the elegance, comfort, and calming atmosphere you'll find at Ascot Suites. From rooms with cozy fireplaces and balconies featuring views of the bay to the rooftop sun deck overlooking Morro Rock, we can provide you with the ideal relaxing getaway. If you'd like to reserve a room at our charming Morro Bay hotel, call us today at 800-887-6454.