Morro Bay's Top Wineries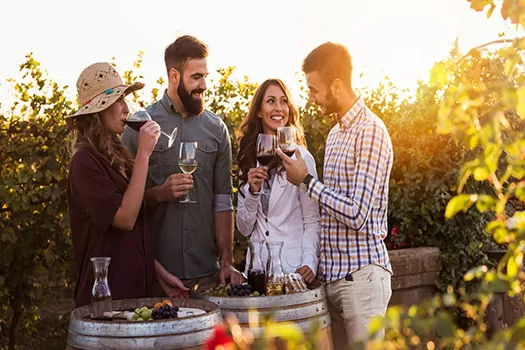 Morro Bay is known for more than just its golden sand coastline and the Gibraltar-like Morro Rock, which is actually an island connected to the beach by a geological formation. By virtue of being located within San Luis Obispo County, Morro Bay is part of the larger Paso Robles American Viticultural Area (AVA) established in the mid-1980s. The regional climate and soil conditions of Morro Bay make it an ideal region for growing various types of grapes, and this agricultural activity has been taking place since the days of the Spanish missionaries.
Prior to the AVA designation, most of the vineyard activity in this part of California was limited to Cabernet grapes for mass-produced wine. These days, there are several wineries dedicated to cultivating various grapes and pressing fine wines. Here's a list of the best wineries in Morro Bay, brought to you by the friendly staff at Ascot Suites. Visitors who are looking for the finest hotels in Morro Bay will love our hotel's relaxed charm, and we're located near a variety of fantastic wineries, restaurants, shops, and galleries.
Chateau Margene
There are two locations where you can taste the luxury Cabernet Sauvignon and Merlot wines produced by Chateau Margene: one is in Creston, and the other is right in the Embarcadero district of Morro Bay. The vineyard has been operating for two decades, and it was replanted in 2016 to switch to organic practices. All the wines are pressed in small lots. You can order delicious starters of cheese, olives, crackers, prosciutto, and dried fruit to complete your wine tasting experience.
Absolution Cellars
Also located on the Embarcadero, the Absolution Cellars tasting room offers a panoramic view of the Pacific Ocean, making it perfect for enjoying sunsets while you taste Tempranillo and Zinfandel wines. Many visitors end up taking bottles home because the elaborate labels are works of art in their own right.
Kelsey See Canyon Vineyards
When you travel just outside the rocky coastline of Morro Bay, you'll notice the topography changes to canyons and valleys that facilitate vineyard operations, and this is where the Kelsey See Canyon wine estate is located. You can get the full wine country experience at Kelsey See Canyon. Domesticated peacocks run around the vineyards, and live music can be enjoyed on the weekends. If you prefer sweet wines, you'll be pleased to learn this winery uses California apples during the fermentation process.
STAX Wine Bar
This isn't a winery per se. It's a local bistro that offers wines from all over the Paso Robles AVA. In addition to its extensive selection of boutique wines from lesser-known wineries in the Central Coast region, STAX is also known for its high-quality gourmet menu, which offers unique dishes such as crostini made with filet mignon. Even though Morro Rock isn't visible from this stylish bistro, a live webcam is pointed right at it, and you can see it on a large-screen monitor while enjoying wines.
If you're looking for the finest wineries in California, you're sure to be thrilled by the choices you'll find in Morro Bay. At the end of your day of wine tasting adventures, retreat to the elegance, comfort, and relaxing atmosphere at Ascot Suites. From rooms with cozy fireplaces and balconies featuring views of the bay to the rooftop sun deck overlooking Morro Rock, we can provide you with the perfect way to wind down after a day of touring the area's fine wineries. If you'd like to reserve a room at our charming Morro Bay hotel, call us today at 800-887-6454.