5 Ways to Have a Blast at the Beach when You Visit Morro Bay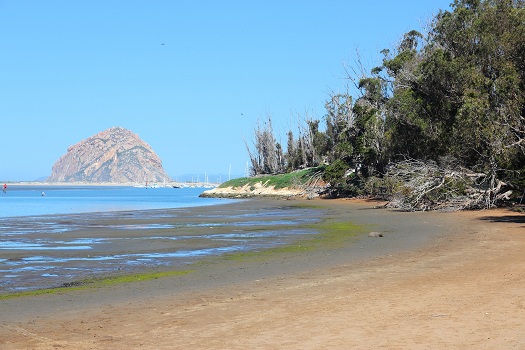 The bay, the harbor, and the beach are three water-based areas you will enjoy exploring during your visit to Morro Bay. Many guests staying in Morro Bay hotels come to the area specifically to explore its natural beauty and enjoy its gorgeous beaches. If it's the beach that's primarily motivating your trip to this waterfront city, you're in luck, thanks to six-plus miles of continuous sand and equally pleasing options nearby. Below, we explore five of the best ways you can enjoy the beach during your trip to Morro Bay.
1. Spend the Day at Morro Rock Beach
The "Gibraltar of the Pacific" known as Morro Rock is an ancient volcanic plug that's the centerpiece of Morro Bay. At its base is Morro Rock Beach, a perfect spot for beachcombing, sunbathing, and other relaxing beach-based activities. Enjoying the day at this popular local beach also means access to:
• Nearby Morro Strand and North Point Beach via a direct pathway
• Ample parking
• On-site public restrooms and showers
Your day at Morro Rock Beach can also include playing in the sand with your kids and watching the sun set while you relax in a beach chair. The city has fire pits overlooking this beach that can be used if you obtain a permit.
2. Kayak or Paddleboard in Calm Waters
Along with swimming at Morro Rock Beach and other local areas where it's safe to swim, another way to enjoy the beach during your trip here is to rent a kayak or paddleboard and glide through the calm waters. This is also an excellent way to get a more up-close-and-personal peek at the regional marine life and some awesome views of Morro Rock.
3. Bike along the Shore
Many of the serene, meandering paths near the beaches in the area are perfectly suited for bike riding and taking in the sights. For instance, the Morro Bay Harborwalk has a backdrop that includes sandy beaches, rugged cliffs, and Morro Rock itself. If you keep following the pathway to the Embarcadero, you'll also be rewarded with numerous shopping and dining opportunities.
4. Picnic on the Beach
After you've tried your hand at kite surfing and built some amazing sandcastles at Morro Strand, grab a basket of goodies and enjoy a picnic on the beach, which is something you can do at many of the public beaches in the Morro Bay area. You're also welcome to visit local eateries not far from many of the beaches here if you prefer an alternative to picnicking.
5. Stroll the Beach by the Harbor
Brimming with marine life, the working harbor here can serve as the backdrop for a casual beach stroll in locations such as Coleman Park & Beach. You can do some exploring as well at Morro Rock Jetty Beach, where you can see waves crashing off the jetty on windy days. And if you take a walk at Toro Creek Beach, be on the lookout for rare birds, colorful anemones, shore crabs, and other fascinating sea creatures.
If you're searching for incredible spots for beachside fun, you're sure to find what you're looking for in Morro Bay. Whether you're vacationing with the whole family or simply taking a few days away to relax, you'll love the elegance, comfort, and calming atmosphere at Ascot Suites. We're within walking distance of a wide array of locations with stunning views that will take your breath away. To reserve a room at our charming Morro Bay hotel, call us today at 800-887-6454.