5 Fabulous Things Women Will Love when They Visit Morro Bay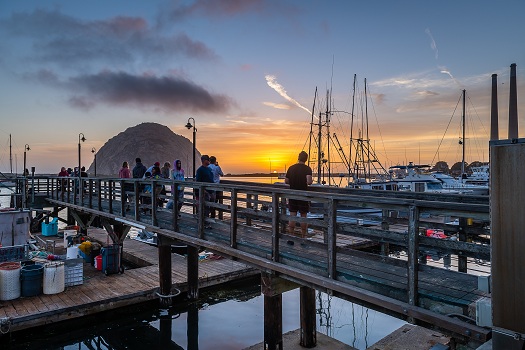 Whether you enjoy the wonders of nature, fantastic wine, or total pampering and relaxation, Morro Bay has many things to love and appreciate. This charming city won't disappoint anyone coming here for a vacation or visit. If you're a woman with plans to spend some time here soon, you'll surely be pleased with Morro Bay and what it offers. Here are five of the things women tend to enjoy most about this location, recommended by the people who know the area best, the friendly staff at Ascot Suites, an elegant boutique hotel Morro Bay visitors love for its comfort and charm. 
1. The Embarcadero
Morro Bay's lively main thoroughfare has something wonderful waiting for any woman with an appreciation for great views and equally amazing shopping and dining options. Many well-reviewed restaurants, art galleries, and niche shops are found throughout this area. You'll also come across a great candy and chocolate store, a charming place that offers handcrafted art and jewelry pieces, and many other unique local delights.
2. Hidden Treasures in Town
Art galleries, a sewing and craft museum, and a few antique and collectible shops are some of the local treasures women traveling to Morro Bay will find on Main Street. This is one of the many areas you may appreciate checking out if you prefer to browse and explore places that aren't so touristy. There's also a farmers' market in this area every Saturday, weather permitting.
3. Spas and Wine Tours
Some women find theme-based vacations appealing, especially when traveling with friends or enjoying a ladies' getaway. If this is what you have in mind for your trip to Morro Bay, there are two options we'd like to recommend. The first is total pampering and relaxation at a local spa, such as Ocean Spa, Serenity by the Sea, or Spa by the Bay.
If you prefer some wine with your relaxation, Morro Bay has possibilities to consider as well. For instance, Paso Robles Wine Tours offers limo rides to various local wine destinations, and Chateau Margene has tasting rooms that serve fresh garlic bread and other tasty selections.
4. Local Boat Tours or Cruises
A bay cruise provides ample opportunities to view gorgeous sunsets and get a close look at marine life that often includes dolphins, otters, and harbor seals. Many of the local cruises on larger boats include appealing perks like on-board food and drinks. The smaller boats can be just as enjoyable if you prefer something more private, and they're perfect for smaller parties if you'll be here on a group vacation.
5. Nature & the Outdoors
Women who enjoy nature and the outdoors in general will absolutely love a vacation spent in Morro Bay. A great place to start is Morro Bay State Park, which presents opportunities to explore nature that include:
• Hiking and biking
• Kayaking and sailing
• On-site camping
• Walking, sightseeing, and birdwatching
Renting a surrey locally is another way to enjoy the fresh air and natural surroundings in a more comfortable way. Morro Bay's massive volcanic rock is easily accessible, too, and it's definitely worth a visit if you have an appreciation for nature and the outdoors.
If you're planning a Morro Bay vacation, whether it's a solo retreat or a trip with family and friends, make your reservations today at Ascot Suites, one of the most charming, comfortable hotels in Morro Bay. Our English-style rooms welcome guests for any occasion, whether it's a fun vacation with friends or a romantic weekend getaway. Kick back and enjoy the coastal breeze on our tranquil rooftop sundeck with stunning views of Morro Bay and Morro Rock, relax on your balcony, or enjoy a long soak in your deep jetted tub. We're within walking distance of a wide array of locations with stunning views that will take your breath away. To learn more about our exceptional accommodations and reserve your room, call us today at 800-887-6454.