What Should Be at the Top of a Morro Bay Visitor's Do-Not-Miss List?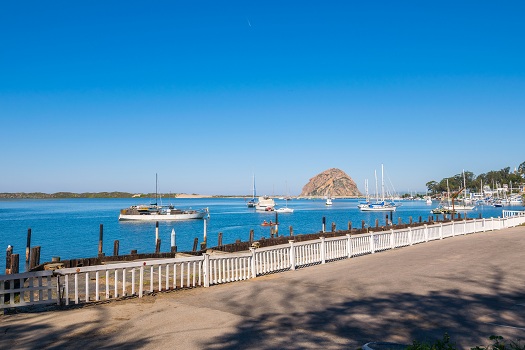 Visible from Tidelands Park and many other vantage points, Morro Rock rightfully gets a lot of attention because of its prominence. While this ancient volcanic remnant is absolutely worth seeing, the one other thing you shouldn't miss when visiting Morro Bay is the Embarcadero, the main thoroughfare here. It's a can't-miss destination because of the many things to do and enjoy in this easily accessible location. The friendly staff from Ascot Suites, a charming boutique hotel Morro Bay visitors return to again and again, run through the list below.
A Foodie's Paradise
With food alone, the Embarcadero will have your mouth watering and your palate fully pleased during your visit to Morro Bay. Top-rated and frequently recommended eateries in this area include:
• The Galley Seafood Grill & Bar
• Dutchman's Seafood House
• STAX Wine Bar & Bistro
• House of JuJu
What's more, many Embarcadero-area restaurants offer waterfront dining experiences that include spectacular views. This is also the place to dine if you have an affinity for tasty dishes made with fresh local seafood. And if you're a wine connoisseur visiting Morro Bay, check out some of the local tasting rooms serving up vintages from nearby wineries.
A Shopper's Delight
There are just as many opportunities to shop as you stroll or casually browse your way along the Embarcadero. For instance, Coastal Treasures & Gifts is a souvenir shop where you can pick up some mementos to take home with you or share with others. You can even pick up shells of various shapes and sizes at the appropriately named Shell Shop. Another cluster of shops can be found at Marina Square, which is also accessible from this bustling boulevard.
Centennial Plaza
Home to another local landmark of sorts, Centennial Plaza is an Embarcadero-accessible destination you won't want to miss while visiting Morro Bay. You can see the giant chessboard found right on the ground in the plaza, and you can even play chess on weekends during your visit if you contact the Morro Bay Chess Club first. This is also a perfect spot to take a break to rest and relax on one of the benches before you get back to shopping, dining, and exploring.
Boating & Tours
Outdoor enthusiasts visiting Morro Bay will be equally pleased with the Embarcadero. There are several places in this area where you can charter boats for fishing or book water-based tours. You can even rent a kayak here if you prefer to do some exploring on your own.
Galleries & Museums
Marina Square is also the place to go while out and about in the Embarcadero area to view local arts and crafts and other unique finds. Some of the galleries in this area also offer pieces for sale. The Morro Bay National Estuary operates a nature center here where you can learn more about the history of the region. Also, if you or someone traveling with you is a skateboarding fan, make sure to stop at the Morro Bay Skateboard Museum.
When you're planning your vacation, make sure to reserve a room or suite at Ascot Suites, one of the most comfortable Morro Bay hotels available. Our English-style rooms welcome guests for any occasion, whether it's a romantic getaway or a family vacation. Relax and enjoy the coastal breeze on our peaceful rooftop sundeck with stunning views of Morro Bay and Morro Rock, snuggle up in front of your fireplace, lounge the day away on your balcony, or enjoy a long soak in your deep jetted tub. To find out more about our exceptional accommodations and reserve your room, call us today at 800-887-6454.