Helpful Hints for New Travelers Coming to Morro Bay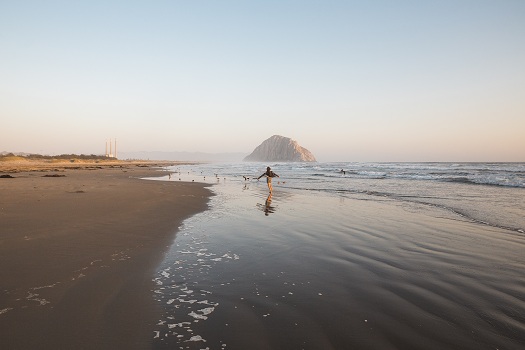 Start at "The Rock" and move inland to explore further and discover local gems, tasty treats, and other fun and enjoyable things. This is one way to approach a trip to Morro Bay if you're a newcomer to this particular coastal locale, which is accessible from the scenic and iconic Highway One. Below, we offer additional tips for new travelers visiting Morro Bay.
Bring a Jacket
Morro Bay has generally pleasant weather throughout the year, so go ahead and pack shorts and similar warm-weather clothing. However, it can get a bit chilly here, especially in the evening and early in the morning when some fog is still lingering. Be prepared by bringing a light jacket or something you can easily slip on while out and about. On a side note, it can actually be a bit warmer in the fall and early winter because of the coastal weather patterns. If you don't need your jacket on a particular day, you can always leave it in your Morro Bay hotel.
Rent a Car in a Nearby City if You're Flying In
This coastal destination is only about four hours away from both Los Angeles and San Francisco. Therefore, if you'll be flying here, one option is to fly into one of these cities and rent a car there. You can then casually make your way to your Morro Bay hotel while seeing more of California. Speaking of transportation, there's trolley service running throughout the waterfront and downtown areas.
Check Out Marine Life & Other Natural Wonders
Morro Bay is a hotbed of marine life and impressive natural wonders. As mentioned above, one of the most notable ones is Morro Rock, a large volcanic leftover known locally as "The Rock." You can even drive right up to this particular natural wonder, and you can also view it from the bay if you book a harbor cruise or rent a kayak or electric boat locally. Marine life can be observed here in many spots, some of which include:
• The dock by the Great American Fish Company, which is where otters are often spotted
• The 2,300-acre Estuary Nature Center that's home to more than 200 bird species
• Morro Bay State Park, where you can casually observe marine life in the adjacent bay
Enjoy the Water
You can't come to Morro Bay without trying a few water-based activities during your stay. For example, Morro Rock Beach is a popular spot for swimming. If you prefer to be more active with water-related activities during your visit, we recommend surfing or stand-up paddleboarding. Just make sure to rent a wetsuit, since the water can be frigid at times.
Shop & Nibble along the Embarcadero
If the joys of traveling for you include shopping, dining, and discovering unique local finds, you'll love the Embarcadero. It's a casual, pedestrian-friendly spot featuring an assortment of dining destinations and charming shops. There's also a maritime museum where you're welcome to brush up on local history during your visit. As far as food goes, local faves include clam chowder, scallop tacos, and barbequed oysters.
When you're planning your Morro Bay vacation, make sure to reserve a room or suite at Ascot Suites, one of the most comfortable and ideally located hotels in Morro Bay. The elegant English-style décor of our rooms welcomes guests for any occasion, whether it's a romantic getaway or a family vacation. Relax and enjoy the coastal breeze on our tranquil rooftop sundeck with stunning views of Morro Bay and Morro Rock, snuggle up in front of your fireplace, lounge the day away on your balcony, or enjoy a long soak in your deep jetted tub. To find out more about our exceptional accommodations and reserve your room, call us today at 800-887-6454.