What Morro Bay Is Famous For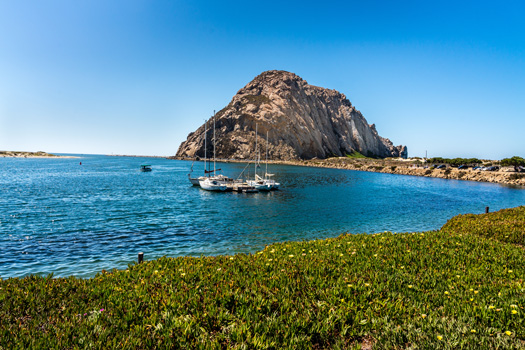 Morro Bay, California, is a beautiful Central Coast destination off scenic Pacific Coast Highway 1. Located in San Luis Obispo County, this small beach city with a population near 10,000 is adored by travelers from around the world. Here are some interesting facts to know about Morro Bay, brought to you by the friendly team from Ascot Suites, a uniquely charming hotel in Morro Bay that's just a short walk from the area's finest restaurants, shops, galleries, and entertainment.
Famous Landmark Morro Rock
The area's most definitive landmark is Morro Rock, which is a 576-foot-tall volcanic plug near the shore. Its nickname is "Gibraltar of the Pacific." At one time, it was separated from the land by much more water until the construction of the harbor in the 1880s by the U.S. Army Corps of Engineers. The harbor is considered one of the most dangerous in America in terms of boating accidents due to its slippery rocks.
Local Culture
The population of Morro Bay has stayed fairly steady since 1980. Of the roughly 4,800 households in the area, more than half are occupied by families with kids. Slightly less than half the population lives in rented rather than owned homes. The city's largest industry is tourism, which encompasses the Embarcadero, restaurants, shops, and parks. Fishing is one of the area's top outdoor activities, and seafood is a significant part of the local dining culture.
Perhaps the most famous legend to live in Morro Bay was fitness and nutrition expert Jack LaLanne, who was originally from Oakland. After years of TV fame, he moved to Morro Bay in the 1980s, where he lived to be 96. Another historic footnote about the area is that it was discovered by Portuguese explorer Juan Rodriguez Cabrillo in 1542.
Favorable Year-Round Climate
The mild Mediterranean climate is a key reason Morro Bay is a popular year-round tourist attraction on the West Coast, and it offers a picturesque, relaxing atmosphere. Its location between San Francisco and Los Angeles attracts regular visitors from both metro areas. Popular year-round activities include surfing, boating, and golfing. It's also an excellent setting for hiking and biking.
Scenery & Wildlife
Morro Bay provides plenty of eye-catching scenery and opportunities to observe nature. In the harbor, visitors can view marine life—including seals, sea otters, and sea lions—throughout the year. One of the best vantage points for spotting otters is in front of the Great American Fish Company. Some people like to rent kayaks to get a closer view of the sea lions. In addition, whales can be seen year-round on sailing expeditions.
Bird-watchers can enjoy views of unique birds in Morro Bay, such as eared grebes, snowy egrets, green herons, and Anna's hummingbirds. The area is also home to monarch butterflies in the winter. To see the greatest variety of birds, winter is the best time to visit Morro Bay.
When you're planning your vacation, make sure to reserve a room or suite at Ascot Suites, one of the most comfortable Morro Bay hotels available. Our English-style rooms welcome guests for any occasion, whether it's a romantic getaway or a family vacation. Relax and enjoy the coastal breeze on our peaceful rooftop sundeck with stunning views of Morro Bay and Morro Rock, snuggle up in front of your fireplace, lounge the day away on your balcony, or enjoy a long soak in your deep jetted tub. To find out more about our exceptional accommodations and reserve your room, call us today at 800-887-6454.