Where to View Wildlife when You Visit Morro Bay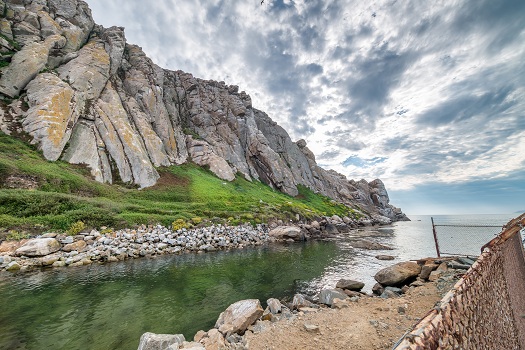 Morro Bay's year-round temperate climate makes it the ideal location for an abundance of outdoor activities. Nature and wildlife enthusiasts have the chance to view a spectacular variety of native creatures. From the sandy beaches along Highway 1 to the inland preserves and state parks, wildlife is abundant in this area. Here are a few of the best spots to see wildlife in Morro Bay, brought to you by the people who know the area best, the friendly staff at Ascot Suites. Visitors looking for the finest Morro Bay hotels will love our relaxed charm, and we're within walking distance of a wide variety of the area's most popular attractions.
Morro Bay South T Pier
The waters surrounding the South T Pier teem with a variety of rockfish, monkeyface eels, pile perch, and other fish species. The location also attracts a large population of sea otters who delight viewers with their antics, which often include people watching. Charming little otter pups are seen between the months of October and January and again from March through April. The iconic Morro Rock serves as the nesting ground for peregrine falcons.
Coastal Waters
Along with providing views of ships sailing to and fro, the waters along Morro Bay are also favored for whale watching. Blue whales travel through the area from June through October. Humpback whales are often seen migrating from April through December. Grey whales make an appearance from December through April. A number of touring vessels offer whale-watching excursions for the best viewing opportunities.
Morro Bay State Park
This park consists of open water, marshes, and wetlands that harbor an abundant aviary population. Buffleheads, loons, pelicans, and pintails represent some of the many species found here. Other waterfowl that make the park home include black-crowned night herons, great blue herons, and great egrets. Watch in amazement at the skill with which the birds catch smelt and other fish. In addition, harbor seals and sea lions frolic in the water and bask in the sun along the shore.
Morro Bay Shoreline
A myriad of tidal pools dot the shoreline during low tide. Within the sandy depressions lie a wealth of sea creatures that include clams, mussels, and scallops along with different varieties of shrimp and starfish. Different sizes and species of crab can also be regularly viewed skittering across the sandy beaches.
Morro Bay Estuary
The diverse habitats contained within this estuary include creeks where you might spot California newts. Northern Pacific rattlesnakes can be found along the pathways on or below rocky shelves. These opportunistic reptiles feed on birds, lizards, mice, rabbits, and other snake species that also reside here.
Morro Bay Golf Course
In the heart of this course's landscaped open spaces stands a grove of eucalyptus trees. These trees serve as a resting place and nectar resource for thousands of fluttering Monarch butterflies that migrate to the location annually to enjoy the warm climate. While the butterflies usually arrive in October and stay until March, they might arrive as early as August to avoid fall and winter weather changes. The eucalyptus trees in Morro Bay State Park provide another place to view these colorful visitors.
After a day of experiencing the amazing variety of wildlife in the Morro Bay area, you'll be ready to put your feet up and relax in the elegance and comfort of your room at Ascot Suites. From cozy fireplaces and balconies featuring views of the bay to the rooftop sun deck overlooking Morro Rock, we can provide you with the ideal relaxing getaway. If you'd like to reserve a room at our charming hotel in Morro Bay, call us today at 800-887-6454.