Fantastic Places to Swim in Morro Bay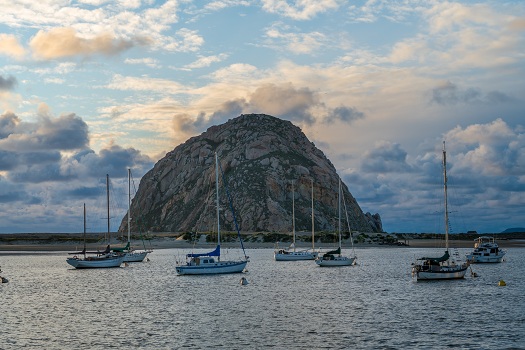 Home to three separate aquatic districts and peppered with more eucalyptus trees than palm trees, Morro Bay is a coastal city with an assortment of natural features that include lagoons and an ancient volcanic mound. Many guests staying in hotels in Morro Bay come to the area to explore its natural beauty and enjoy the invigorating Pacific Ocean. If you have plans to visit, swimming is one of the many activities you're welcome to enjoy while basking in the salty ocean breeze. Keep reading to discover some of the most awesome spots to go swimming in Morro Bay, CA.
Morro Rock City Beach
Perched between the iconic local landmark known as Morro Rock and Morro Strand State Beach, this beach is a popular destination for water-based activities. It's also a safe place to swim if you have children with you, since there are two lifeguard towers staffed daily from 10 a.m. to 6 p.m. In addition to swimming, activities to enjoy at Morro Rock City Beach include surfing, sunbathing, and building sandcastles.
Morro Strand State Beach
Also known as North Beach, Morro Strand State Beach has convenient walkways and steps that make access easy. Remember to bring a kite with you if you want something to do when you're not swimming, since kite surfing is a popular activity at Morro Strand. When you do swim here, be on the lookout for the sea otters and harbor seals that tend to populate the waters here.
Morro Bay Harbor
There are a few smaller beaches inside Morro Bay Harbor where you may be able to find some safe open spots to swim. These include Mother's Beach/Coleman Beach and No-Name Beach.
Day Trip Swimming Possibilities
Some spots in Morro Bay aren't safe for swimming because they're too rocky. However, if you need to find some other swimming possibilities during your stay here, consider scheduling some day trips. Options include:
• San Luis Obispo – Visit this nearby city that's a 20-minute drive from Morro Bay, and you'll be able to swim at spots that include the SLO Swim Center, the Cuesta College swimming pool, and Avila Hot Springs.
• Cayucos – Located about six miles from Morro Bay, Cayucos gives you the opportunity to combine swimming with tidepooling and surfing. This charming town also has an assortment of specialty shops you can check out before heading back to Morro Bay.
• Pismo Beach – Drive for about half an hour from Morro Bay, and you'll be in Pismo Beach. Your swimming options in this area include Pismo Beach, Dinosaur Caves Park, and nearby Vista Del Mar Beach.
If you're searching for incredible spots for swimming fun, you're sure to find what you're looking for in Morro Bay. Whether you're vacationing with the whole family or simply taking a few days away to relax, you'll love the elegance, comfort, and calming atmosphere at Ascot Suites. We're within walking distance of a wide array of locations with stunning views that will take your breath away. To reserve a room at our charming Morro Bay hotel, call us today at 800-887-6454.