The Best Morro Bay Sunset Spots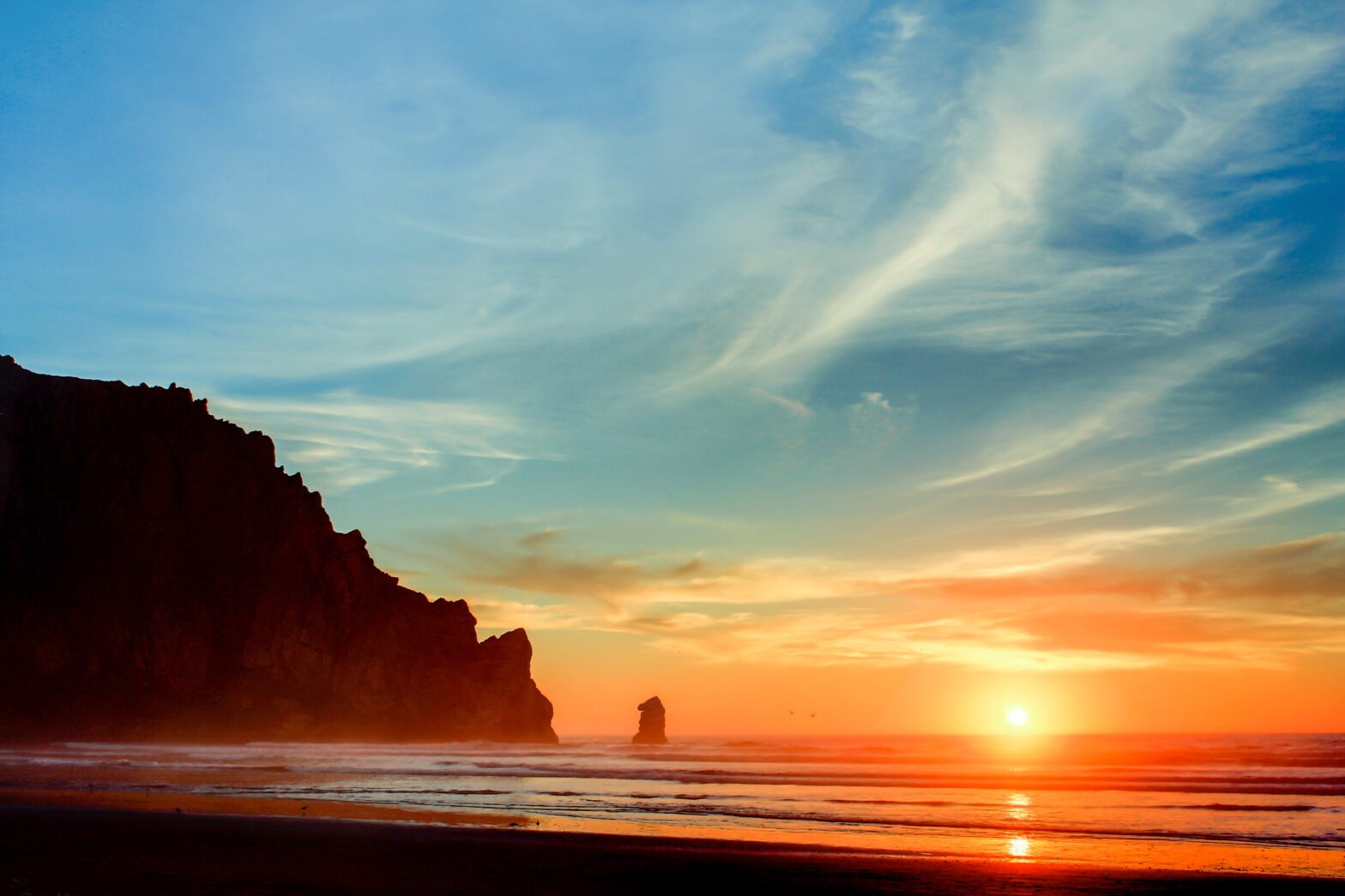 A Morro Bay sunset is nothing short of magical. As the sun descends to the horizon, dreamy hues of orange, pink, red, and indigo paint the skyline and reflects on the glassy waters of Morro Bay. It's a romantic way to end the day with the awe-inspiring Morro Rock and the pacific ocean as its backdrop.
There are plenty of Morro Bay sunset spot options to choose from. You can join a Morro Bay sunset cruise or hike on Black Hill. Whichever way you choose, you can't go wrong.
Where can I watch the sunset in Morro Bay?
Anywhere along the Embarcadero
Crank up your car radio or your marshall and road trip along the Embarcadero to find your own spot. Once you find good parking, chill out with friends with a bottle of beer and enjoy the moment. Every pier offers a different vantage point. Try to find one with a lesser crowd.
Or save on gas and leave your car if you're staying with us at Ascot Suites and take a 10-minute walk to the embracadero for the perfect sunset spot!
At The North Point Beach & Tide Pools
The North Point Beach and the Tide Pools located at the north end of Morro Bay are also great spots for a Morro Bay sunset. You can find the Tide Pools at the end of Toro Ln, and you'll only see it when it's low tide. There is a small parking area and then follow one of the several dirt pathways to get down to the beach and tide pool.
Head to Tidelands Park 
Drive or walk towards the south end of the Embarcadero, and you'll find Tidelands Park. It's a great spot to view the rock, watch boat traffic, go on a picnic with your family, or take a romantic sunset stroll with your loved one. It's well-landscaped with lots of grassy areas, open space parking, and restaurants nearby. Dogs on leashes are welcome too!
Go fancy at a Morro Bay sunset dinner cruise or sunset cocktail cruise.
If you don't mind spending a little extra, a sunset dinner or cocktail cruise along the beautiful waters of Central Coast is a must when visiting Morro Bay. Enjoy wildlife encounters and stunning views of the pacific as it glows into hues of gold and summer as the sun dips on the horizon. There are plenty of cruise and boat tour agencies to choose from, including Chablis Cruises, Morro Bay Whale Watching, Morro Bay Landing, Papagallo II, and Lost Isle Adventures.
Paddle Boarding on the water
Go paddleboarding just before golden hour and check the tides. Read our blog about paddle boarding in Morro Bay for a guide on where to launch and rent.
On top of Black Hill
Hiking Black Hill is one of the top things to do in Morro Bay. You won't want to miss it. It's a nice and easy 10-15minute hike with panoramic views of the bay, the estuary, and inland over the rolling hills. For an even more spectacular experience, time your hike so that you can view the sunset on top. Don't forget mosquito repellants!
At the Morro Bay Marina Boardwalk
Located directly across the road from the Morro Bay State Park campgrounds, on the south side of the Marina, the boardwalk is a very easy 0.7miles trail with wonderful views of the ocean, boat traffic, wildlife, and nature. It's also a stunning spot for a Morro Bay sunset; however, you have to check the weather as it can be foggy here sometimes. There are public restrooms, free parking, galleries, shops, and restaurants offering fresh catch nearby. Dogs on leash are allowed too.
Ascot Suites Rooftop Deck
Bask in splendid views of a Morro Bay sunset, the Morro Rock and the bay at Ascot Suites' rooftop sundeck. Located in the heart of Morro Bay, Ascot Suites offers clean, comfortable, stylish, and affordable accommodations. A plethora of outdoor activities and adventures await you in this quaint coastal city. Be in the middle of it all when you stay at Ascot Suites.