Can You Go to a Hotel for Emergency Housing if You Have COVID?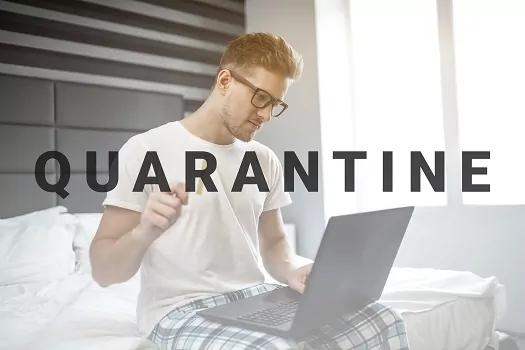 COVID-19 has presented a number of challenges for many people, including the need to safely quarantine or find a place to stay for another pandemic-related reason. If you have this virus and you're in need of emergency housing, one of the best options is to stay in a hotel. The welcoming team from Ascot Suites, a premier Morro Bay hotel that offers utmost comfort and high-quality service, provide a closer look at why you may need to do this and what to keep in mind.
Being an Out-of-Town Visitor with COVID-19
Symptoms of COVID-19 can come on suddenly or be so minor you don't immediately know you have the virus. You could even have COVID-19 without experiencing a fever or any other symptoms that would prevent you from traveling in the first place. Therefore, it's entirely possible to only find out you have the virus once you're already staying at a hotel while visiting from another city or state. In situations like this, you may want to remain at the hotel until it's safe for you to travel back home.
Protecting Susceptible Household Members
Just because you have COVID-19 doesn't mean other household members will also have it. One way to prevent spreading the virus to other people you live with is to stay at a hotel. This could be considered emergency housing if you have vulnerable household members you want to protect, such as:
• Elderly loved ones
• Family members with compromised immune systems
• Loved ones with diabetes or other chronic health issues
Having Convenient Access to Amenities
Because of the risk of spreading COVID-19, it's sometimes easier to stay at a hotel, where food and other necessities can be ordered and delivered safely. Under certain circumstances, this may be considered an emergency if you don't have anyone close to where you live who can assist you as you recover.
Being Unable to Return Home with COVID-19
In some instances, it may not be possible for you to return to an apartment complex or similar form of group housing where you normally live until you've been given the all clear by your doctor. Under these circumstances, a hotel may be the best form of emergency housing for you.
Being a Healthcare Worker
Another possible emergency scenario in which you may need to stay at a hotel if you have COVID-19 involves your profession. If you're a healthcare worker, it may be advantageous for you to stay at a hotel if you've likely been exposed to coronavirus, especially if you have vulnerable loved ones at home.
Check with Your Hotel First
If you're in need of emergency housing for any of the reasons mentioned here, contact the hotel first. This will give you a chance to find out for sure if you can stay there. You'll need to comply with the state's COVID-19 guidelines during your stay. If you do have COVID-19, there may be additional steps involved.
If you need emergency housing due to the coronavirus, you'll want to choose a hotel that offers high-quality service and exceptional comfort. If you're looking to stay at one of the finest hotels Morro Bay has to offer, reserve a room or suite today at Ascot Suites, where you'll have all the amenities you'll need for a relaxing stay, including a mini-refrigerator, flat-screen TV, complimentary WiFi, and free parking. Some of our rooms also feature fireplaces, private balconies, and deep jetted tubs. To find out more about our exceptional accommodations and make a reservation, call us today at 800-887-6454.