Why Morro Bay Is Perfect for a Vacation with Friends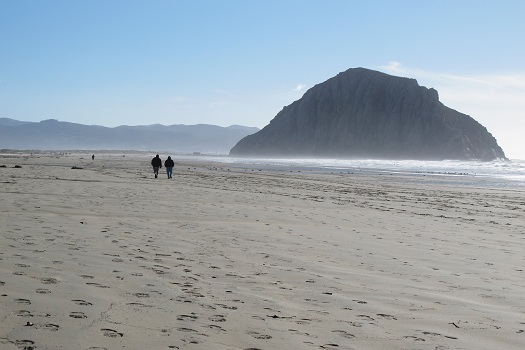 Known for its natural attractions and relaxed coastal atmosphere, Morro Bay is a vacation destination that can provide many cherished memories. This is true whether you have plans to travel here by yourself or with friends. If you do prefer to travel with a group, Morro Bay can be an ideal place to rest, relax, explore, dine, and enjoy water-based or outdoor adventures with your friends. Here's why, brought to you by the people who know the area best, the friendly staff at Ascot Suites, an elegant boutique hotel Morro Bay visitors return to again and again. 
Your Friends Will Be Impressed by "The Rock"
Towering nearly 600 feet tall, Morro Rock—known locally as "The Rock"—is a volcanic remnant that just has to be seen in person to be truly appreciated. You can even book boat tours and sunset cruises for yourself and your friends that include a direct view of Morro Rock and nearby coastal wonders.
Group Activities Can Be Enjoyed in One Convenient Location
When you vacation with friends in Morro Bay, you'll have access to an assortment of outdoor activities in one convenient location—Morro Bay State Park. This water-adjacent park is a place where you can enjoy any or all of the following activities with your besties:
• Mountain biking
• Canoeing or kayaking in adjacent waters with rental gear
• Golfing on an 18-hole course operated by the park
• Hiking along nearby trails
Close to the marina at the park, you'll find the Morro Bay State Park Campground. If you reserve a spot before you arrive in Morro Bay, you and your friends can enjoy a day or two (or more) of camping, depending on what else is on your vacation to-do list.
Incredibly Diverse Habitats Can Be Explored with Friends
As long as we're on the topic of the great outdoors, if this is what appeals to you and your buddies, you'll appreciate a trip to Morro Bay that includes the Morro Bay National Estuary. For an even more memorable experience, consider booking a group kayak tour of the estuary. You and your friends are also welcome to get in touch with nature while vacationing in Morro Bay at:
• El Moro Elfin Forest, a miniature forest that provides bay views
• Montaña de Oro State Park, where you and your pals can check out colorful wildflowers
• Morro Strand State Beach, where you and your friends can picnic while taking in the natural wonders and local sights
You'll Enjoy Picturesque Dining & Shopping Experiences
If dining and shopping are your preferred group activities, Morro Bay has just as much to offer. Make your way to the city's main thoroughfare known as The Embarcadero, and you and your friends will be treated to an assortment of unique shops and restaurants, many of which specialize in seafood-related selections. Head further inland to Morro Bay Boulevard, and you'll find even more shopping and dining opportunities.
There Are Plenty of Opportunities for Fun with Friends Bringing Kids
If you'll be vacationing with your own children and some friends or friends with kids, Morro Bay has just as much to offer. For instance, the nautically themed Tidelands Park has many playtime features that tend to appeal to children.
If you're planning a Morro Bay vacation with your buddies, make your reservations today at Ascot Suites, one of the most charming, comfortable hotels in Morro Bay. Our English-style rooms welcome guests for any occasion, whether it's a fun vacation with friends or a romantic weekend getaway. Kick back and enjoy the coastal breeze on our tranquil rooftop sundeck with stunning views of Morro Bay and Morro Rock, relax on your balcony, or enjoy a long soak in your deep jetted tub. We're within walking distance of a wide array of locations with stunning views that will take your breath away. To learn more about our exceptional accommodations and reserve your room, call us today at 800-887-6454.