Where Can You Enjoy Some Quality "Me Time" in Morro Bay?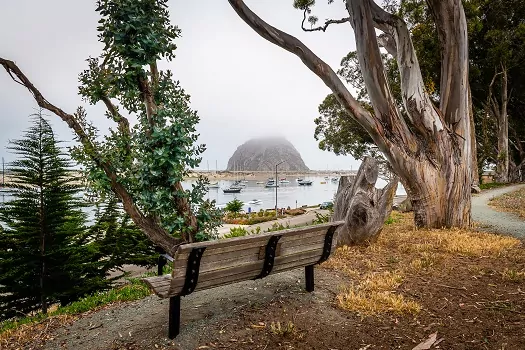 Morro Bay is a charming slice of West Coast paradise with an abundance of natural features and a relaxed vibe. These are qualities you'll certainly appreciate even more if one of your main reasons for coming to a coastal city like this is to get some much-deserved "me time." The friendly team from Ascot Suites, one of the most comfortable and ideally located Morro Bay hotels, help you out with this goal even further by presenting our suggestions for what we think you'll agree are the top spots where you can unwind, de-stress, and personally recharge while in Morro Bay.
Anchor Memorial Park
Anchor Memorial Park is one of the many places where you can see the large feature out in the bay known as Morro Rock in a more serene setting. You'll also find paved pathways here that are perfect for slow, relaxing walks and a public observation deck where you can quietly take in the views while bathed in bay breezes.
Morro Bay State Park
This spot offers plenty of "me time" possibilities for your consideration in one convenient location. Many of the things you can do here can be enjoyed in a casual, relaxed way that gives you plenty of time to mentally refresh. In addition to quietly sitting on the stairs overlooking the bay, relaxing over by the marina, and checking out the many bird species commonly sighted here, options at Morro Bay State Park include:
• Hiking*
• Golfing at the 18-hole course operated by the park
• Kayaking or canoeing with equipment you can rent locally
• Mountain biking along picturesque pathways
*One of the on-site trails takes you to the top of a hill that provides stunning ocean views.
Morro Strand State Beach Campground
The Morro Strand State Beach Campground is a quieter camping spot in Morro Bay you might appreciate if you're here for some "me time." Because the weather in this area is generally pleasant year-round, you should have no problem comfortably enjoying a camping-centered visit to Morro Bay. Basic on-site amenities are available.
The Embarcadero
If your idea of "me time" includes shopping and dining, the Embarcadero is the spot for you. It's the city's main hub for tasty bites, uniquely prepared local dishes, and an assortment of shopping opportunities that include trendy fashions and fun finds you probably won't discover anywhere else.
Centennial Plaza
One of the more unique spots in Morro Bay is Centennial Plaza, an open area with a large chessboard on the ground. There are four benches here where you're welcome to sit and relax while checking out views such as the nearby bay.
Morro Strand State Beach
If casually strolling on soft sand while looking out at sparkling blue waters and clear skies is your idea of heaven on earth, spend some time at this spacious local beach. Your "me time" here can include long casual strolls, since Morro Strand State Beach stretches all the way to the nearby town of Cayucos. There are also sand dunes and other natural features that add to the casual, tranquil nature of this particular Morro Bay spot.
With so much to do in Morro Bay, it will take you several days to get to every place on your list, so reserve your room today at Ascot Suites. Our English-style rooms welcome guests for any occasion, whether it's a family vacation or a solo getaway. Relax and enjoy the coastal breeze on our peaceful rooftop sundeck with stunning views of Morro Bay and Morro Rock, lounge the day away on your balcony, or snuggle up in front of your fireplace after a day of exploring. If you'd like to reserve a room at our charming hotel in Morro Bay, call us today at 800-887-6454.