Paddle Boarding in Morro Bay: Hotspots and Rentals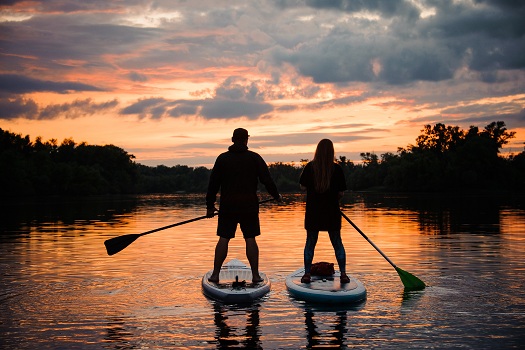 A charming little seaside city on the Central Coast, Morro Bay offers a unique kind of beach experience to tourists and locals alike. Forget about wild beach nights and crazy daytime excursions; here, time is slow, and fun means a stroll by the Embarcadero or paddle boarding in Morro Bay at sunrise or sunset.
Morro Bay Stand Up Paddleboarding is a fun and relaxing activity everyone can enjoy. It's not like surfing, where you need legit skills. SUP still requires balance and confidence, but it's much easier to learn. It's also a great cardio activity and stress-reliever!
Morro Bay is a great place to try stand up paddleboarding. There are plenty of things to do in Morro Bay but don't skip this activity! Its glassy and calm waters and scenic views provide great conditions and backdrop for this fun water activity. But more than that, you also get to see abundant wildlife, including rays, fishes, seals, sea otters, and different species of birds, while paddling along its waters. It's truly a sight to behold!
Morro Bay Stand Up Paddleboarding Hot Spots
Morro Bay has plenty of SUP hot spots for all ages and skill levels. Whichever you want to go to, check the tides and wind forecast before going out. Don't go out when the winds are too strong, or the tide is too low.
Morro Bay
The Morro Bay is perhaps the most accessible spot for paddling. Morro Bay Stand Up Paddleboarding conditions depend on the tide and the area, but it's generally dependable, especially at the back of the bay. There are often wildlife sightings when paddling out, so enjoy meandering through the waters with birds and seals nearby. Watch out for schools of rays as they are sometimes around too!
Morro Bay State Park
Paddle boarding in the Morro Bay State Park is best on high tides to avoid walking through the muddy, soft, wet sand, but its flat waters make it a great place to SUP. The marina is a great area to launch if you want to explore the back bay and estuary. Paddling here also gives you amazing views of the Morro Rock.
Coleman Beach
Best at mid-tide to high tide, Coleman Beach is a small strip of sand just next to Coleman Park. But it gives great access to the water, so it's good for launching. Be careful, though, as the bay's narrow north-end neck sometimes has a strong current.
Tidelands Park Boat Ramp
This is another excellent launching spot for paddleboarding in Morro Bay. Located at the end of the Embarcadero, it's easy to access and has free parking. It's a short cruise from here to the sandspit but be very careful when going. Check the tides before you head out, and make sure you have enough time to paddle back. Currents can be fairly strong here, too, so proceed with caution. You can also choose to paddle along the Embarcadero heading to Morro Rock or go towards Morro Bay State Park and Bird Sanctuary further into the bay.
Widow's Wall
Located on the south side beach next to Morro Rock, head to Widow's Wall if you want to try SUP surfing. It's a spot frequented by surfers when it's turned on, so it can get crowded sometimes.
If you're new to SUP surfing, don't go when the waves are too big; make sure you're well equipped, and go with someone who knows what they're doing.
Where to Rent Stand Up Paddleboards in Morro
'A locally grown, family-owned, and operated business,' Morro Bay Paddle Sports has an array of boards, kayaks, paddles, and accessories available for all kinds of paddlers, from novice to expert. They also provide lessons and tours!
Located at the west end of the parking lot of Morro Bay State Park Marina, they offer SUP rentals, too, aside from kayaks, of course. You can launch right where they are too!
Also locally-owned and operated, rent, buy, or go on a tour with Sub Sea Tours. They offer a variety of kayaks, stand-up paddleboards, canoes, and other watersports equipment and accessories for rent. They also provide cocktails cruises, whale watching tours, and private charters.
______________________________________________________________________________________________________________________
Enjoy plenty of watersports, especially paddle boarding in Morro Bay! It's a relaxing activity that allows you to just somehow get lost in the waters and away from the life at the shore. For an even more relaxing time, stay at Ascot Suites and get cozy in our rooms. Snuggle close to your room's fireplace and enjoy breathtaking views of the coast and Morro rock on our sundeck. Just one block away from Morro Bay's waterfront, make Ascot Suites your home away from home at Morro Bay.