Fun Facts about Morro Rock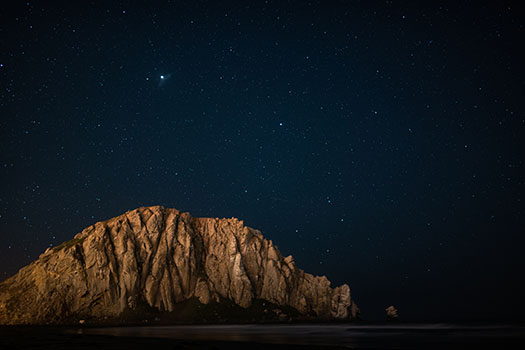 Morro Rock isn't simply a rock. It's the size of an island, and that's due to the way it naturally formed over millennia. Today, it's a prime tourist attraction near San Luis Obispo and the central California coast. Here's some key information about Morro Rock, brought to you by the friendly staff from Ascot Suites, a charming boutique hotel Morro Bay visitors return to again and again.
Location
This 581-foot volcanic plug sits in the waters of Morro Bay. The city with the same name is located off the Pacific Coast Highway (California State Route 1) in San Luis Obispo County. Morro Rock is accessible via a small causeway that connects it to the mainland.
History
The rock's history goes back 23 million years, which is when the volcano became dormant. Between 6500 and 2000 B.C., the residents of the area at that time, the Salinan and Chumash tribes, considered Morro Rock a sacred site and would climb the rock twice each year to celebrate the solstice. The Salinans believe it's so sacred that no one should climb to its peak.
Material from the rock was mined in the 19th and 20th centuries. Most of it was used to establish a breakwater in Morro Bay and fortify Port San Luis Harbor. In 1968, after being transferred to the state, Morro Rock was officially designated a California historical landmark.
Composition
Morro Rock is a remnant of a once-live volcano. What was its neck is now comprised of volcanic rock and bird droppings that have been compacted over the years. As the process continued, it created a large dome over the volcano's mouth.
Recreation
Visitors to Morro Rock aren't allowed to climb on its surface. This is due to a combination of tribal rules and state laws. Nevertheless, the area still offers a variety of recreational activities. The beach itself is a wide swath of sand and rocky outcroppings. Due to Morro Rock's structure and location, the ocean around it is rough, which makes it perfect for surfers. The beaches in the area also contain high sand dunes.
During the summer, lifeguards are positioned on the beach from 10 a.m. to 6 p.m. Since the water is so rough, visitors are advised to check with the lifeguards before getting in the ocean.
Fauna
Morro Rock is home to the nesting areas of snowy plovers, birds that are protected to allow them to lay eggs and nurse their chicks. It's the main reason dogs aren't allowed on Morro Rock without leashes. The area is also a reserve for the endangered peregrine falcon. Among the regular sea animals to visit Morro Rock are sea lions and sea otters. Hermit crabs and starfish are also seen within the rocky crags and on the beach. All the fauna on and around Morro Rock is protected by the state of California.
When you're planning your California vacation, make sure to reserve a room or suite at Ascot Suites, one of the most comfortable hotels Morro Bay visitors could wish for. Our English-style rooms are perfect for any occasion, whether it's a family vacation or romantic getaway. Relax and enjoy the coastal breeze on our tranquil rooftop sundeck with stunning views of Morro Rock and Morro Bay, snuggle up in front of your fireplace, relax on your balcony, or enjoy a long soak in your deep jetted tub. To find out more about our exceptional accommodations and reserve your room, call us today at 800-887-6454.