Which Morro Bay Beaches Should Be on Your Must-See List?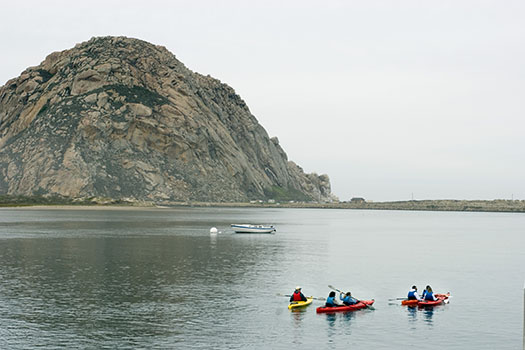 Morro Bay is a popular California coastal town located about halfway between Los Angeles and San Francisco. The town is home to Morro Rock, an old volcanic mound situated at the end of Morro Rock Beach. Many guests at hotels in Morro Bay come to the area to play in the lagoons, bird watch, walk the trails, and explore the area's natural setting. Here are some of Morro Bay's must-see beaches.
Toro Creek Beach
Toro Creek Beach is a mile-long beach between Morro Bay and Cayucos that fills in an area of Morro Strand State Beach. It's known by locals as the Dog Beach because their furry pals can play here off-leash. The beach is wide and sandy with a backdrop of dunes and scenic Highway 1. Morro Rock is visible in the distance, creating some great photo opportunities from the trail that winds along the top of the dunes. The Cayucos Pier is visible to the north. Free parking is available between Toro Creek and the Toro Creek Bridge along Highway 1. There are also picnic tables and restrooms.
Morro Strand State Beach
Morro Strand State Beach is comprised of two areas in the cities of Cayucos and Morro Bay. Three miles of beach connect the northern and southern entrances of the state park. The beach is wide and sandy and flanked by shallow dunes. Morro Rock can be seen from almost every point along the shoreline. Visitors will find a day-use area and a campground near the entrance at Highway 1 and Yerba Buena Street. A larger day-use parking lot is located on Azure Street. From here, a wide path eventually leads to Cloisters Community Park, which has a grassy area, a playground for kids, and wetlands with a viewing platform. Popular activities here include windsurfing, kite flying, and fishing.
North Point Beach
North Point Beach is located at the north end of Morro Bay off Highway 1. The locals appreciate this beach for the popular tide pools that form at low tide at the end of Toro Lane. Visitors enjoy the walkways and trails along Studio Drive that lead to the tide pools along the waterfront. The beach has a park with a natural environment of brush and dunes. A small public parking lot is located at the end of Toro Lane.
Morro Rock Jetty Beach
For awesome scenery, don't miss Morro Rock Jetty Beach. Located south of Morro Rock near the entrance to Morro Bay, it's a small beach, but it's pristine and sandy. The waves of the Pacific crash against the rocks and the jetty's entrance, often spraying high into the air. Climbing on the 580-foot-tall landmark isn't allowed, but visitors will have some great photo opportunities from the small beach.
If you're searching for incredible beaches, you're sure to find what you're looking for in Morro Bay. Whether you're vacationing with the whole family or simply taking a few days away to relax, you'll love the elegance, comfort, and calming atmosphere at Ascot Suites. We're within walking distance of a wide array of locations with stunning views that will take your breath away. To reserve a room at our charming Morro Bay hotel, call us today at 800-887-6454.