Top Morro Bay Beaches for Swimming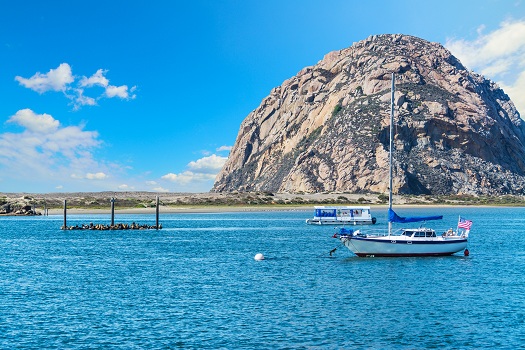 Morro Bay, a popular California coastal town located halfway between San Francisco and Los Angeles, is home to a number of beaches that are perfect for a variety of water sports, including swimming. Many guests at hotels in Morro Bay come to the area to explore the area's natural beauty and enjoy playing in the invigorating Pacific Ocean. Here are some of Morro Bay's most popular beaches for swimming.
Morro Strand State Beach
Morro Strand State Beach, a wide sandy beach surrounded by shallow dunes, is divided into two parts: the north section connects to the city of Cayucos via Cayucos Beach, and the southern portion is in Morro Bay. Morro Strand State Beach is a great spot for outdoor activities of all kinds: walking, bird-watching, fishing, surfing, kite surfing, sunbathing, and, of course, swimming.
The southern section of this state park is in Morro Bay between Morro Rock Beach and the rocky North Point. South Morro Strand State Beach is ideal for leisurely strolls in the sand, and the waves are perfect for surfing, windsurfing, and fishing, and on less windy days, swimmers fill the beach. Family campsites and picnic areas are nearby, and dogs aren't allowed on the beach.
Morro Rock Beach
Morro Rock Beach, which lies between the iconic Morro Rock and Morro Strand State Beach, is a wide sandy beach. With Morro Rock looming overhead, this beach is a particular favorite in part because of its dramatic setting. Swimming, sunbathing, surfing, and building sandcastles are favorite activities at this popular beach.
As part of Morro Rock State Park, Morro Rock itself is protected by a natural preserve, and it's off-limits to climbers. Dogs must be on a leash, and fires aren't allowed on the beach. Morro Rock Beach is open from dawn to dusk, and during the summer, two lifeguard towers are staffed between 10 a.m. and 6 p.m.
Cayucos State Beach
Just a few miles north of Morro Bay, the popular Cayucos State Beach is located in the charming coastal town of Cayucos. The beach area features a fishing pier and a nice sandy shoreline. Visitors enjoy swimming, surfing, kayaking, tide pooling, and picnicking. During the peak season in summer, lifeguards are on duty.
Cayucos Beach
South of Cayucos State Beach is Cayucos Beach, a city-owned stretch of sand in front of the numerous beachfront homes south of downtown Cayucos. This gradually sloping beach, located between Cayucos State Beach and Morro Strand State Beach's North Beach, is wide at low tide and almost completely wet at high tide. In several spots in the surf, you'll find large rocks, and to the south, you can see Morro Rock in the distance.
If you're searching for incredible beaches for swimming fun, you're sure to find what you're looking for in Morro Bay. Whether you're vacationing with the whole family or simply taking a few days away to relax, you'll love the elegance, comfort, and calming atmosphere at Ascot Suites. We're within walking distance of a wide array of locations with stunning views that will take your breath away. To reserve a room at our charming Morro Bay hotel, call us today at 800-887-6454.