Where to Find the Most Stunning Views in Morro Bay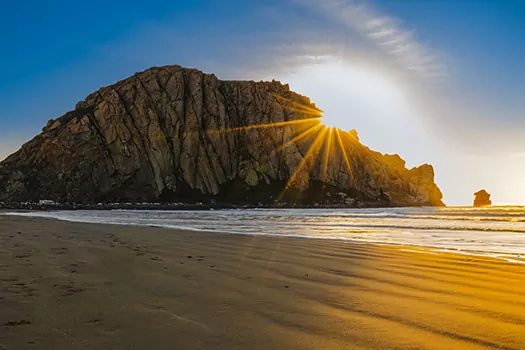 Whether you're seeking romance, tranquility, photo opportunities, or lasting memories, Morro Bay can deliver in a big way when it comes to scenic views. Here are Morro Bay's top spots for scenic views, brought to you by the people who know the area best, the friendly staff at Ascot Suites. Visitors looking for the best Morro Bay hotels will love our relaxed charm, and we're within walking distance of a wide array of locations with stunning views that will take your breath away.
Morro Bay State Park
The key feature of Morro Bay State Park is Morro Bay Lagoon. This is an ideal location for sunsets, whether you enjoy them alone, with a significant other, or with family. You can also ride a scooter, kayak, or just kick back and watch the sea otters.
Anchor Memorial Park
This is a small bayside park with harbor views. Features include a couple of picnic tables, a small pier, and a big memorial anchor for fishermen who have been lost at sea. Anchor Memorial Park is another excellent spot to enjoy sunsets, and you'll have the added bonus of boats in the scene. You'll also have an excellent view of Morro Rock. While the sunsets are breathtaking, Anchor Memorial Park offers a tranquil scene at sunrise, when you'll likely be greeting the dawn with seals.
Coleman Park
If you're looking for scenic bay views at a park that also offers several amenities, Coleman Park is the place to go. Features include picnic tables, a playground, and a basketball park. You'll be able to enjoy views of Morro Rock, and you might see some sea otters and surfers. You're also very likely to see a lot of birds.
Morro Rock Beach
This is one of the largest beaches you'll find in the area, so if you're looking to walk on the beach while enjoying magnificent views, Morro Rock Beach should be your first choice. If you go to the left when you arrive, you'll find the beach. If you veer to the right, you'll find a walking trail along the bay. The water here is clean and calm, making it good for swimming if you can handle the cool temperature.
Hollister Peak
This is one of the Seven Sisters, which are seven dormant volcanoes in the area. There are actually 11 of them, but four are underwater. The view from Hollister Peak is a great option if you're looking for a higher place to view Morro Rock.
North Point Beach
If you like soft sand, this is the place to be. It's also a dog beach, and you'll usually find decent waves here as well as tide pools with all kinds of interesting creatures. Another neat aspect of North Point Beach is that you can go horseback riding on the beach.
If you're searching for incredible scenic views, you're sure to find plenty of them in Morro Bay. Whether you're celebrating an anniversary with your loved one or you're simply taking a few days away to relax and rejuvenate, you'll love the elegance, comfort, and calming atmosphere you'll find at Ascot Suites. From rooms with cozy fireplaces and balconies featuring views of the bay to the rooftop sun deck overlooking Morro Rock, we can provide you with the perfect escape. If you'd like to reserve a room at our charming Morro Bay hotel, call us today at 800-887-6454.