How to Have a Meaningful Vacation in Morro Bay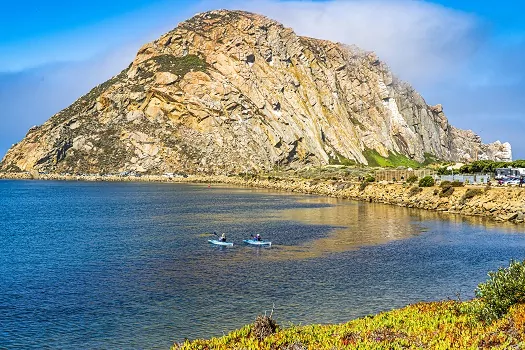 Getting away from it all is incredibly easy to do when you come to the coastal bayside community of Morro Bay. Peppered with an abundance of natural features and charm, it's a place where you can relax and unwind or remain as active as you prefer to be at any given time. Make your time here more meaningful by finding the perfect balance with how you enjoy all that's offered in this sunny California locale. Here are a few tips for doing just that, brought to you by the people who know the area best, the friendly staff at Ascot Suites. Visitors who are looking for the best hotels in Morro Bay will love our hotel's relaxed charm, and we're within walking distance of a wide array of restaurants, shops, galleries, and entertainment.
Get in Touch with Nature
Home to peregrine falcons, the large volcanic remnant known locally as "The Rock" is just the tip of the iceberg when it comes to the natural wonders found here. A good way to start having a more meaningful time in Morro Bay is to explore some of these locations. Some of the more notable ones include:
• Morro Rock, which you can see from pretty much any local spot
• The Estuary Nature Center, which is free for visitors
• Morro Bay State Park, where you can walk around, hike, camp, sail, fish, or check out the on-site Museum of Natural History
Book Some Things before You Get Here
You can still have a great time if you're more spontaneous with what you do once you get to Morro Bay. That said, there are some meaningful things you can book ahead of time before your arrival to make your trip even more memorable. Before you arrive, options with pre-booking include:
• Party bus wine tours if you'll be coming here with a group
• Whale watching tours or boat tours of the bay and nearby areas
• Helicopter tours that provide a bird's-eye view of the area
Make the Most of Your Beach Time
Morro Bay has miles of beach for your enjoyment. Your time at any of the local beaches can be even more meaningful if you make an effort to truly enjoy whichever ones you prefer to visit. As long as we're on the topic of making your Morro Bay beach time even more enjoyable, consider:
• Tide pooling at North Point Beach
• Exploring or picnicking at Morro Rock Jetty Beach
• Surfing, sunbathing, or using one of the on-site fire pits as the sun goes down at Morro Rock Beach
Discover Unique Local Finds
Make your shopping experience in Morro Bay more meaningful by heading to the Embarcadero, the city's main waterfront-adjacent shopping and dining area. Marina Square is an area here that's worthy of your time, since it has a nice assortment of cozy shops. Unique finds can also be discovered at Under the Sea Gallery, Smoobage, Dragon Bay, and other Embarcadero souvenir and gift shops.
Enjoy Live Shows with Your Food
The Siren, Libertine Pub, and STAX Wine Bar and Bistro are among the well-recommended local spots that serve great seafood and other tasty dishes and beverages coupled with live music. If your idea of a meaningful trip is enjoying great local brews or wines, try local haunts like The Savory Palette, The Buoy, or Dutchman's Seafood House, which also has excellent clam chowder.
No matter what kind of meaningful getaway you're looking for, you're sure to find Morro Bay is the ideal spot. Whether you're celebrating a special occasion or you're simply taking a few days away to refresh your spirit, you'll find the elegance, comfort, and relaxing atmosphere you're looking for at Ascot Suites. From rooms with cozy fireplaces and balconies featuring views of the bay to the rooftop sun deck overlooking Morro Rock, we can provide you with everything you need for a memorable vacation. If you'd like to reserve a room at our charming Morro Bay hotel, call us today at 800-887-6454.