How Much Time Should I Plan to Spend in Morro Bay?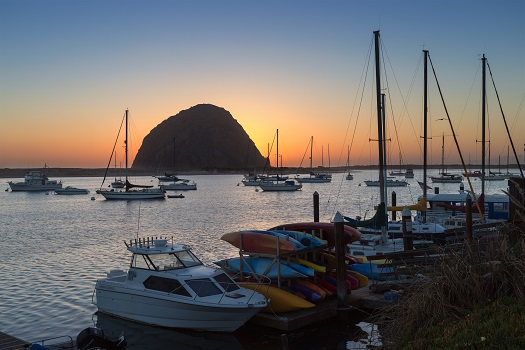 Morro Bay, the Gibraltar of the Central California coast, has a lot to offer in terms of tourism, but you can also plan a short itinerary and still get to enjoy many of its top attractions. If you were to ask local residents about the ideal length of time for a Morro Bay vacation, they would probably recommend staying for at least a week. On the other hand, if you're focused on just one attraction, such as Morro Rock or Morro Bay State Park, you can reasonably plan a day trip. Let's take a look at some vacation scenarios and how you can plan your time in Morro Bay.
Weekend Trips
Let's say you arrive on a Friday night and need to be back at work on Monday. This happens to be a popular option among many travelers, and it allows you to spend all of Saturday exploring Morro Rock on the harbor. You can make this a beach day during which you can walk along the boardwalk, get some sun, and take a dip in the water if the temperature is right. You'll still have time for a harbor cruise on Sunday before you depart.
Three-Day Weekends
If you arrive on Friday and leave on Monday, you can spend more time checking out Morro Bay State Park, but you may want to start the trip by heading over to San Simeon, which is about 30 minutes away, to visit Hearst Castle. You may want to brush up on the history of William Randolph Hearst and his amazing life so you can understand his motives for building this imposing European-style seaside castle overlooking the Pacific Ocean. Some visitors like to visit Hearst Castle twice, and they still leave with many questions about the man who once controlled more than half of all American news media outlets. After spending your day exploring this fascinating California treasure, you'll be ready to return to your hotel in Morro Bay for some rest and relaxation.
Four-Day Trips
With four days in your itinerary, you can extend the range of activities to include more sightseeing. One specific activity many locals recommend involves booking a whale-watching trip on a yacht or catamaran. The best time to do this would be during the summer to ensure catching a glimpse of California gray whales or Central Coast humpbacks, which happen to be more active when the weather is warmer. If you're into surfing, you'll need at least two sessions to get used to the rocky breaks, but you can also rent a kayak or stand-up paddleboard for a more physical challenge.
Week-Long Vacations
When you have at least five days to enjoy in Morro Bay, you can include activities such as golfing, riding mountain bikes, tasting amazing dishes at local fusion restaurants, visiting local art galleries, climbing the Cerro Cabrillo Peak, and many other fun excursions.
No matter how long you decide to stay in Morro Bay, you'll find the perfect blend of elegance, comfort, and relaxing atmosphere at Ascot Suites. From rooms with cozy fireplaces and balconies featuring views of the bay to the rooftop sun deck overlooking Morro Rock, we can provide you with the perfect relaxing getaway. If you'd like to reserve a room at one of the most charming hotels in Morro Bay, call us today at 800-887-6454.