Morro Bay's Top 6 Family-Friendly Activities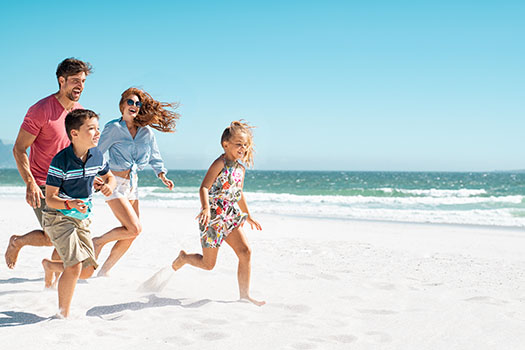 If you're looking for some family fun while staying in Morro Bay, CA, you don't have to worry. Below are six family-friendly activities and adventures to embark upon, suggested by the friendly staff from Ascot Suites, a charming boutique hotel Morro Bay families return to again and again.
1. Stroll the Beautiful Beaches
When it comes to family fun, is there anything better than the beach? Morro Bay has numerous beaches for your family to enjoy. While you're there, make sure to take a stroll or have a sunset picnic at Morro Strand State Beach, where you can take in the majestic views while the kids play in the sand. Morro Rock is the biggest eye-catching attraction at the beaches. You may also be lucky enough to spot sea otters, sea lions, and other wildlife while you're there.
2. Eat at Local Restaurants
Since Morro Bay is a harbor where commercial fishermen arrive daily with their catches, make sure to check out the local restaurants to enjoy some fresh seafood. Whether it's good old-fashioned fish and chips, scallops, or oysters that whet your appetite, you're sure to find seafood that will hit the spot. Two of the most popular restaurants to consider are the Galley Seafood Grill & Bar and Windows on the Water. Don't leave Morro Bay until you've paid a visit to one of these gems.
3. Try Kayaking, Canoeing, or Paddleboarding
If water adventures are your thing, you'll love Morro Bay. Coleman Park and Beach have calm waters that are the perfect spot for water-based exploration. Kayaking is perfect for older kids, while canoeing is best for younger children. If your family is brave enough, you can also have a go at stand-up paddleboarding.
4. Cruise on a Boat
Beaches are great, but nothing matches setting sail and getting out on the open water. Check out Bay Cruisers for private electric boat rentals that can hold up to eight people, including children. They have lifejackets for the kids as well. Take an hour to cruise the bay, search for sea otters, and enjoy the views.
5. See a Movie
If you're looking for something fun to do indoors or the weather just isn't cooperating, you'll want to catch a flick and enjoy the nostalgic environment at a local favorite, the Bay Theatre. It's a family-owned business with a single screen, and the building dates back to the 1940s. They're currently closed due to the COVID-19 pandemic, but check them out as soon as businesses in the area start opening back up.
6. Go Bird-Watching
Morro Bay is an ecological wonderland that makes a great home for many different species of birds. In addition, migratory birds also use Morro Bay as a rest area twice a year while on their journeys. Bird lovers visit Morro Bay every January for the Winter Bird Festival to take pictures and learn all about the fowl in the area. If you and your family love wildlife, there's no reason not to grab the binoculars and head to Montaña de Oro State Park, where you can try to catch a glimpse of the fascinating birds passing through.
Morro Bay is the perfect spot for the whole family to enjoy, so reserve your room or suite today at Ascot Suites, one of the most comfortable Morro Bay hotels available. Our English-style rooms welcome guests for any occasion, whether it's a family vacation or a romantic getaway. Relax and enjoy the coastal breeze on our peaceful rooftop sundeck with stunning views of Morro Bay and Morro Rock, snuggle up in front of your fireplace, lounge the day away on your balcony, or enjoy a long soak in your deep jetted tub. To find out more about our exceptional accommodations and reserve your room, call us today at 800-887-6454.