What Foods Are Associated with Morro Bay?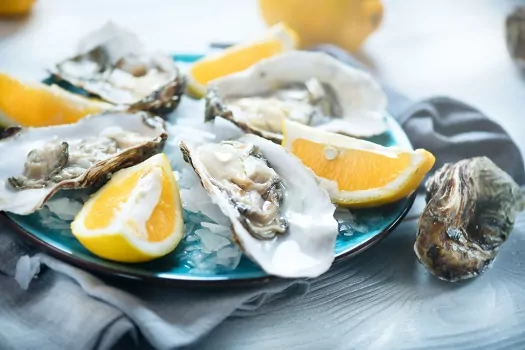 There are certain expectations people naturally have when visiting beautiful coastal California cities like Morro Bay. If one of the things you're counting on when coming here is access to excellent dining options, you're in luck. Below, the friendly staff from Ascot Suites, a charming boutique hotel Morro Bay visitors return to again and again, dig into some of the types of cuisine Morro Bay is known for.
Fish & Chips
Given the casual, relaxed nature of Morro Bay, it's not much of a surprise fish and chips are one of the favorite seaside noshes here. Head to the waterfront-adjacent Embarcadero area and you'll find places like Tognazzini's Dockside Too and the Great American Fish Company serving an assortment of fish and chips selections, some of which include locally sourced cod, shrimp, halibut, and other tasty surprises.
Oysters
Oysters have long been a part of the culture in the Morro Bay area, with Pacific Gold and Grassy Bar being the most common types of oysters locally sourced and served here. Tognazzini's is also well-known for its oyster menu, which includes barbecued oysters prepared in garlic butter. You'll also want to check out the options available at Morro Bay Oyster Company and other waterfront haunts if you enjoy oysters.
Salmon Candy
Having a chewy texture similar to jerky, salmon candy is another popular type of cuisine Morro Bay is known for. Brined with brown sugar and spices, this sweet, delicious treat can be found locally at places like Giovanni's Fish Market & Galley.
Shark Jerky
Tasting like a mix of teriyaki and brown sugar, shark jerky is also popular locally in Morro Bay. Made from fresh thresher shark, this jerky variation can be sampled at the Morro Bay House of Jerky, Giovanni's, and a few other local spots.
Tacos with a Seafood Spin
Taco Temple is among the many Morro Bay spots where you can enjoy tacos peppered with an assortment of seafood delights. What's more, given Morro Bay's proximity to fresh seafood sources, many of the tacos served here include such tasty things as scallops, halibut, and fried calamari. You'll even find crab cake tacos.
California Chowder
Often combined with scallops, white wine, red potatoes, and an assortment of fresh veggies, California chowder is equally appreciated in Morro Bay. Local eateries that include Bayside Café and Dutchman's Seafood House are some of the frequently recommended locations where you can sample chowder prepared with a mouthwatering Cali coastal flair during your visit.
Steak & Burgers
Not everything in Morro Bay is seafood based. In fact, places like Distasio's on the Bay are well-known for exceptionally prepared steaks and side dishes. Burgers are equally enjoyed and appreciated here at places like Wee Shack, Beach Burger, and House of JuJu by the Bay.
Breakfast Offerings Made from Scratch
If you focus on the breakfast menus in Morro Bay, it won't be difficult to find places like Frankie & Lola's that present offerings made from scratch with tasty extras like fried green tomatoes and house-made chorizo. You'll also find homemade breakfast goodies at Carla's Country Kitchen and Gift Shop and other local eateries with breakfast menus.
No matter what kind of dining experience you're looking for, you're sure to find something to please your palate in Morro Bay. Stay for a few days and enjoy the elegance, comfort, and laid-back atmosphere at Ascot Suites. Visitors who are looking for premier Morro Bay hotels will love our relaxed charm, and we're within walking distance of a wide array of restaurants, shops, galleries, and entertainment. From rooms with cozy fireplaces and balconies featuring views of the bay to the rooftop sun deck overlooking Morro Rock, we can provide you with the perfect seaside escape. Call us today at 800-887-6454 to make your reservation.