Fishing in Morro Bay: When and Where to Go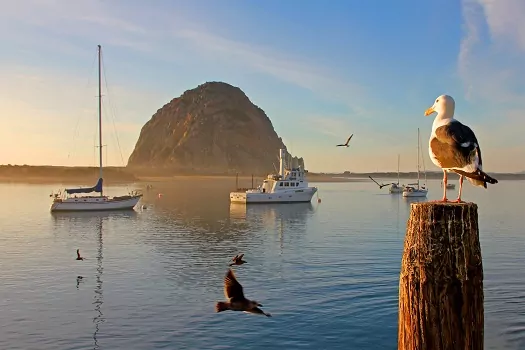 Morro Bay – this quaint and charming seaside city has become a popular tourist destination not only because of its beautiful beaches but also because of all the fun things you can do in Morro Bay. From watersports to hiking, there's a lot of things to do in Morro Bay. But aside from its natural beauty, Morro Bay is also a sanctuary for wildlife, whether by air, on land, or at sea.
Anglers and fishing enthusiasts will find fishing in Morro Bay quite exciting. From the piers all the way to the deep sea, there's a spot for anglers of all ages and skill levels!
Fishing Season in California 2022
Fishing in Morro Bay is generally good all year round, but the best time to head out for some deep sea fishing in Morro Bay or cast your line nearshore in Morro Bay is in summer. Fishing season in California is from June to September, but sometimes it extends to October.
Fishing in summer is best primarily because the water temperature is higher and fish are more active. Sea creatures like crabs, squids, and smaller types of fish are more abundant during summer, and gamefish actively hunt and feed on them. Thus, making them easier to hook and catch.
Also, fishing is just more fun under the summer sun than out in the winter cold.
The Best Fishing Spots in Morro Bay
You won't run out of fishing opportunities in Morro Bay. There are fishing spots around the coast. You have to know where to cast your line for better chances of catching. The North T-Pier and the Morro Bay Finger Piers are the more popular ones.
For a quick fishing trip, head to the North t-Pier at the north end of the Embarcadero. This pier is public and is used by both recreational and commercial anglers. You'll find three fisheries at the North T-Pier, and you'll need different gears and baits. You can get all your fishing needs at some tackle shops around the area.
You can catch a variety of species on this pier, including different types of perch and rockfish, sculpins, fringeheads, flounder, halibut, sharks, and bat rays. If you go to the deeper parts of the pier, you can get pacific sardine, jacksmelt, pacific mackerel, and jack mackerel especially if it;s peak fishing season in california.
Also called 'J' Pier, Memorial Pier, or the Anchor Park Pier, the Morro Bay Finger Piers is a very small pier that can only accommodate 1-2 anglers at a time. Tourists tend to flock here more than fishermen, so it can be hard to find a spot sometimes, but still, if there are too many boats docked at the North T-Pier, this is a great place to go.
You'll get mostly perch and flounder from winter to spring on this pier. In summer, you can try for sharks and bat rays. You can also find jacksmelt, sardines, Pacific mackerel, and jack mackerel here, the same as the North T-Pier.
Deep Sea Fishing in Morro Bay
If you want to take your trip to the next level, try deep sea fishing in Morro Bay. There are plenty of local fishing charters around who can take you out in the deep waters for some real fun.
Morro Bay Landing specializes in premiere ocean adventures, including Morro Bay sportfishing excursions, bay cruises, whale watching, and private charters.
Pacific Charters caters to smaller groups, including families looking for private charters for a unique ocean experience.
Starfire Sportfishing offers private fishing charters for half-day, ¾-day, full-day, and long-range trips.
Virg's Landing has been operating since 1954 and is considered an icon for sportfishing on the central coast. They offer Morro Bay sportfishing, private charters, whale-watching, and fleet trips.
_____________________________________________________________________________________________
There are many fun things to do in Morro Bay but don't leave without fishing in Morro Bay. It's a fun and unique experience whether you're traveling solo or with your family and friends.
Just a short drive away from Morro Bay's best fishing spots, stay at Ascot Suites for an unforgettable vacation down by the bay. After a long day of adventure, relax at our clean and spacious rooms, or enjoy a glass of wine while gazing at the breathtaking views of Morro Bay and Morro Rock at our rooftop sundeck. At Ascot Suites, you're guaranteed a relaxing stay.