Guidelines for Being Quarantined in a Hotel with COVID-19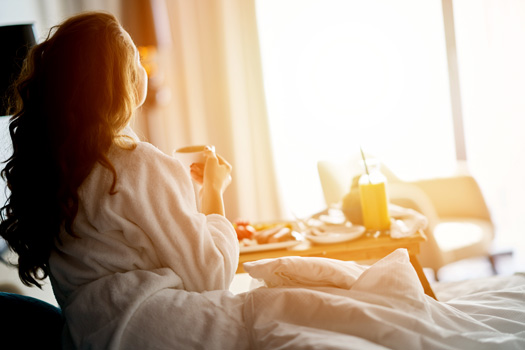 Even if you don't have COVID-19, you may need to quarantine if you've been in contact with someone who has or may have this virus. This is one reason you may consider quarantining at a hotel if you have COVID-19 or need to isolate yourself for a designated time. Here's what you need to know about taking this step, suggested by the experienced staff at Ascot Suites, a premier hotel Morro Bay visitors can rely on for maximum comfort and high-quality service. 
Get in Touch with the Hotel First
Before you quarantine away from home, contact the hotel. This will give you a chance to ask questions and get a rundown of what you'll need to do for the duration of your stay. You'll also give the hotel and its staff a chance to properly prepare.
Respect Other Guests
Realize a hotel wants to create a positive and comfortable experience for all guests, whether or not quarantining is involved. For this reason, it's important to be respectful of other guests when quarantining at a hotel with COVID-19.
Respect the Hotel Staff
Also, be respectful of the hotel staff as they safely interact with you. For instance, if there are no-contact services, find out what these services are and how they work. Being respectful of the staff also benefits you, since you'll be able to have a more enjoyable stay.
Be Aware of Local COVID-19 Guidelines
Staying at a hotel to quarantine doesn't necessarily mean being restricted to the hotel 24 hours a day. However, if you do go outside the hotel while quarantining, you'll want to keep any applicable local COVID-19 guidelines in mind. California's state website can give you more information on current coronavirus guidelines.
Reasons to Quarantine at a Hotel with COVID-19
Staying at a hotel to quarantine doesn't mean sacrificing your comfort. In fact, taking this step can provide added peace of mind for yourself and your loved ones. This can certainly be the case if your reason for quarantining away from home is to protect your immediate family members, especially if they haven't yet been exposed to the virus. Other possible reasons to spend your quarantine time at a hotel include:
• Discovering you have been exposed to COVID-19 when in town from elsewhere
• Needing to be closer to your preferred healthcare provider as you quarantine
• Having at-risk loved ones at home (e.g., an elderly parent or someone with a preexisting health condition)
• Preferring to quarantine at a place that has amenities you can't easily get at home
It's Possible to Make Lemons from Lemonade
Quarantining at a hotel with COVID-19 doesn't have to be a negative experience. With the right approach to a hotel stay for this reason, you can still have a safe and pleasant time. Yes, you'll have to keep certain health and safety precautions in mind. However, once you get used to this routine, you should be able to enjoy accessible hotel amenities and features.
If you need to self-quarantine for several days, you'll want to choose a hotel that offers high-quality service and comfort. If you're looking to stay at one of the most welcoming, comfortable hotels in Morro Bay, reserve a room or suite at Ascot Suites. We provide our guests with all the amenities they need for a relaxing stay, including mini-refrigerators, flat-screen TVs, complimentary WiFi, and free parking. Some of our rooms also feature in-room fireplaces, private balconies, and deep jetted tubs. To find out more about our exceptional accommodations and reserve your room, call us today at 800-887-6454.