Dos & Don'ts to Remember when You Vacation in Morro Bay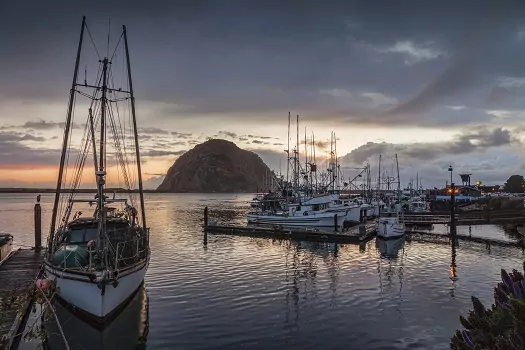 The tranquil, picturesque coastal destination that is Morro Bay, CA, has much to offer. It's the kind of place where most visitors want to make sure they're truly enjoying anything of interest that's offered and available so they can have a memorable and rewarding experience. Increase your odds of achieving this goal by checking out this list of dos and don'ts to keep in mind when visiting Morro Bay, brought to you by the people who know the area best, the welcoming staff at Ascot Suites. People who are looking for the top hotels in Morro Bay will love our hotel's elegant charm, and we're just a short walk from the area's finest restaurants, shops, galleries, and entertainment.
Do: Take Time to Get Closer to "The Rock"
You can't miss this volcanic remnant when you arrive in Morro Bay, but don't just snap some pics from a distance and call it a day. It's definitely worth the extra effort to drive up to the base, which is accessible from Morro Rock Beach, to check out the natural habitat around it.
Don't: Forget a Jacket
A weather phenomenon known as the Coriolis effect creates an upswell from the surface of the adjacent waters here. This is one of the reasons it can get a bit chilly in Morro Bay, even during the warmer months of the year. For this reason, we recommend packing a jacket or at least a light pullover top.
Do: Bring Your Golf Clubs
If you're a golf fan, don't forget to bring your clubs when visiting Morro Bay. The main golf course here is located within Morro Bay State Park. It's a player-friendly course known for being affordable and offering panoramic ocean views.
Don't: Overpack if You Intend to Shop
There are many shopping opportunities in Morro Bay, especially along the Embarcadero, the main avenue here. If you enjoy shopping as you travel, don't pack too much. This way, you'll be able to easily bring back local finds you might discover at places like Treasures Antique Mall.
Do: Try the Local Java
Morro Bay is widely known for its natural wonders, but the city also has some really good coffee. Do yourself a favor and check out Morro Bay Coffee Co., Rock Espresso Bar, Skipper's Brew Coffee House, and other highly recommended local coffee spots during your visit.
Don't: Forget to Ask Locals for Recommendations
Morro Bay residents are known for being friendly and approachable, so don't be shy about asking about good places to eat, explore, and visit. You'll likely be treated to insider info that takes you to areas that are off the beaten path, such as North Morro Bay, which has many eateries and shops that locals prefer.
Do: Check Out the Live Music Scene
Morro Bay State Park is a perfect place to explore the great outdoors while spending some time here, but there are plenty of indoor activities you can enjoy as well. If you have an appreciation for music, check out the many live music venues in the area during your visit. Some local spots, such as The Siren, also have dance floors.
If you're searching for an incredible vacation destination, you're sure to love Morro Bay. Whether you're celebrating an anniversary with your loved one or you're simply taking a few days away to relax and rejuvenate, you'll be amazed by the elegance, comfort, and calming atmosphere you'll find at Ascot Suites. From rooms with cozy fireplaces and balconies featuring views of the bay to the rooftop sun deck overlooking Morro Rock, we can provide you with the ideal relaxing getaway. If you'd like to reserve a room at our charming Morro Bay hotel, call us today at 800-887-6454.