How to Make the Most of Your First Trip to Morro Bay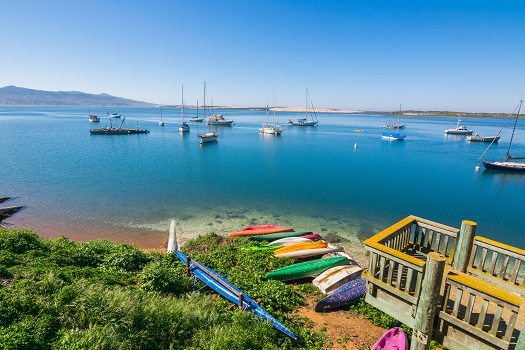 Peppered with an abundance of natural features, Morro Bay is a coastal paradise that will treat you to mild temperatures and plenty of opportunities to explore and get active. If you're planning your first trip here, it's understandable to want to get the most out of your visit so you'll have plenty of cherished memories to take back with you. Accomplish this goal by considering the suggestions mentioned below when visiting Morro Bay for the first time.
See Morro Rock
If you're new to Morro Bay, you have to check out Morro Rock. Sometimes called the "Gibraltar of the Pacific," it's technically part of an ancient volcano. The 576-foot Morro Rock is the largest within a chain of nine peaks, and you can view it in person from Anchor Memorial Park.
Spend Some Time at Morro Bay State Park
If outdoor activities are your thing, put going to Morro Bay State Park on your to-do list while here. Walking, bird-watching, hiking, kite flying, and mountain biking are just some of the many activities you're welcome to enjoy in the park. Other park features include:
• A sprawling 18-hole golf course
• The Morro Bay State Park campground
• A marina that offers spectacular views
Get in Touch with Nature at the Morro Bay National Estuary
This federally protected wildlife refuge is the place to go in Morro Bay if you have an appreciation for natural habitats. Spanning 2,300 acres, the Morro Bay National Estuary has convenient bayfront trails that can be used to view everything here at your own pace. You can also book a kayak tour to check things out from a different perspective.
Explore the Embarcadero
Nestled along the bay, the Embarcadero is the main thoroughfare in Morro Bay. This is the place to go to casually take in the views while also having the opportunity to mingle with other visitors and locals. You'll also find an assortment of shops and restaurants here.
Sample Local Foods
Speaking of restaurants, you'll definitely want to sample the local cuisine if you're a first-time Morro Bay visitor. Fortunately, there are plenty of places where you can enjoy steamed clams, mouthwatering breakfast burritos, lobster tails, Italian-style pizza, sandwiches infused with local flavor, regional cuisine, and other palate-pleasing delights in Morro Bay.
Spend Some Time at the Beach
You shouldn't visit Morro Bay for the first time without checking out at least one or two of the beaches here. One possibility is Morro Strand State Beach. It's a quieter beach where you can windsurf, fish, sunbathe, and even camp at the on-site campground. After spending your day enjoying the fun and sun at the shore, you'll be ready to return to your hotel in Morro Bay for some rest and relaxation.
Ask Locals for Suggestions
One other thing you should absolutely do when you first visit Morro Bay is talk to the locals and get some suggestions and recommendations. Most people who live in Morro Bay or the nearby areas will be more than happy to give you some non-touristy things to consider doing and seeing while visiting. For instance, Morro Bay Boulevard is where you'll find many popular local destinations.
When you're planning your first trip to Morro Bay, make sure to reserve a room or suite at Ascot Suites, one of the most comfortable, charming hotels in Morro Bay. Our peaceful rooftop sundeck offers stunning views of Morro Bay and Morro Rock, and you can snuggle up in front of your fireplace, lounge the day away on your balcony, or enjoy a long soak in your deep jetted tub. To find out more about our exceptional accommodations and reserve your room, call us today at 800-887-6454.