What Should Morro Bay Visitors Put on Their Do-Not-Miss Lists?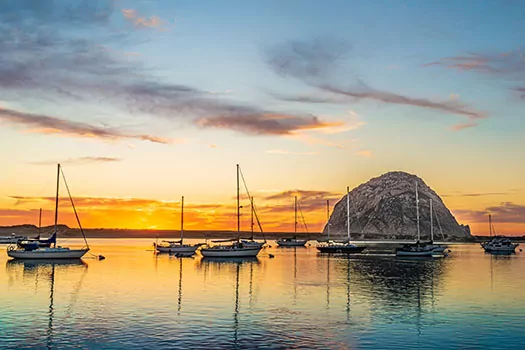 Morro Bay sits on a pristine slice of the Central California coast, delivering stunning views of the Pacific Ocean, a unique beach culture, and picture-perfect weather. There's no shortage of ways to pass your time while visiting this piece of paradise. Here are just a few things you shouldn't miss while vacationing in Morro Bay, brought to you by the friendly staff from Ascot Suites, a charming boutique hotel Morro Bay visitors return to again and again.
Morro Bay State Park
The crown jewel of Morro Bay is its state park. Here you'll find the famous 50-acre Morro Rock, an ancient volcanic mound that juts out of the Pacific Ocean. Morro Bay State Park also features a vast network of hiking and biking trails, a modern campground, a marina, and much more. The saltwater marsh area is home to many varieties of birds, providing a fabulous location for bird-watchers to enjoy their hobby.
Morro Bay Skateboard Museum
For something a little funky for your trip itinerary, make sure to pay a visit to the Morro Bay Skateboard Museum. Featuring skateboards and artifacts dating back to the 1930s, this museum is the perfect representation of the skateboard culture. The museum is run by Jack Smith, widely considered to be one of the legends of the sport.
Morro Strand State Beach
No trip to Morro Bay is complete without spending time along its miles of unspoiled coastline. Morro Strand State Beach is a great place to soak up the gorgeous California sun. This beach also provides clear views of Morro Rock, making it a nice stretch of sand for all of those iconic vacation pictures. If you catch the beach when the tides are low, you can enjoy trying to spot marine life in the tide pools. The beach also offers plenty of parking.
Museum of Natural History
Visitors of all ages will appreciate the wealth of interactive learning exhibits at the Morro Bay Museum of Natural History. This vast museum focuses on highlighting the various tidal forces, environmental issues, and geological features that distinguish this part of the Golden State. This museum is an ideal place to learn more about the natural area of Morro Bay. Kids will love getting down and dirty with the hands-on exhibits.
Black Hill Trail
Outdoor recreation lovers will delight in the opportunities afforded by the Black Hill Trail. This 2.5-mile trail is accessible year-round, offering ample opportunities for hiking and bird-watching. You'll be rewarded at the top of the trail with sweeping views of Morro Bay, the estuary, and the hills that dot the landscape of Central California. The trail is rated as a moderate hike, meaning most visitors should be able complete it with little effort.
When you're planning your vacation, make sure to reserve a room or suite at Ascot Suites, one of the most comfortable Morro Bay hotels available. Our English-style rooms welcome guests for any occasion, whether it's a romantic getaway or a family vacation. Relax and enjoy the coastal breeze on our peaceful rooftop sundeck with stunning views of Morro Bay and Morro Rock, snuggle up in front of your fireplace, lounge the day away on your balcony, or enjoy a long soak in your deep jetted tub. To find out more about our exceptional accommodations and reserve your room, call us today at 800-887-6454.