Morro Bay's Top 5 Restaurants for Romance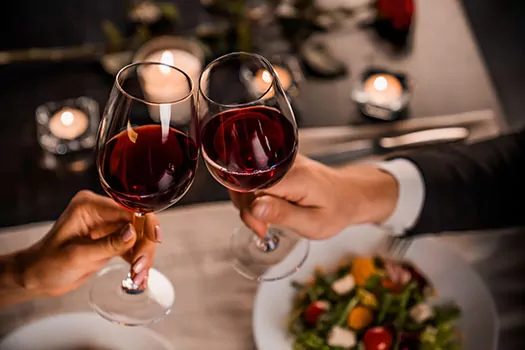 There's no better place to enjoy a romantic meal than Morro Bay. As the gem of California's central coast, Morro Bay boasts an abundance of intimate dining experiences to enjoy on your trip. Here are five of the most romantic restaurants to consider when you visit Morro Bay, recommended by the friendly staff from Ascot Suites, a charming boutique hotel Morro Bay visitors return to again and again for special romantic getaways.
1. Windows on the Water
Clearly, the biggest draw of Morro Bay is its stunning views of the Pacific Ocean. This makes dining with a view of the water a required experience when visiting this stretch of coastline. Windows on the Water is distinguished by its exceptional views provided by floor-to-ceiling windows. The menu features fresh and sustainable local cuisine, providing the best tastes of central California.
2. STAX Wine Bar & Bistro
If you're after a vast wine selection to complement your romantic dinner, you can do no better than STAX Wine Bar & Bistro. As the name suggests, this restaurant specializes in vino. With a selection of over 120 wine varietals, it's easy to find a vintage to fit your tastes and budget. The wine partners beautifully with the tapas selections, including imported meats, cheeses, olives, and more.
3. DiStasio's on the Bay
This family-owned restaurant specializes in steaks and Italian cuisine. The friendly father-and-son team will make you feel right at home, creating a cozy vibe for your romantic meal. Popular menu choices at DiStasio's include baked lasagna, chicken marsala, shrimp scampi, and ribeye steak. DiStasio's also offers a wide variety of gluten-free items. Make sure to leave room to share a piece of the famous spumoni ice cream cake for dessert.
4. Galley Seafood Grill & Bar
This restaurant is widely regarded as one of the best eateries along the central coast, and it's easy to see why diners flock to Galley Seafood Grill & Bar for all their special occasions. This romantic restaurant prides itself on its fresh seafood selections, including scallops, Dungeness crab cakes, ahi tuna, and more. Diners will enjoy the location overlooking the gorgeous waterfront on the Embarcadero. The Galley is open for both lunch and dinner, making it easy to fit a trip to this restaurant into your Morro Bay travel itinerary.
5. 60 State Park Restaurant & Lounge
Located at the Inn at Morro Bay, this intimate restaurant and lounge is perfect for a casual yet romantic meal. Along with your meal, you'll enjoy views of the bay. This restaurant serves breakfast, lunch, and dinner. The centerpiece of the dining area is a cozy fireplace, inviting you to get comfortable and settle in for a delicious meal with your love.
No matter what kind of romantic dining experience you're looking for, you're sure to find the ideal restaurant in Morro Bay. If you're extending your stay for a few days with your sweetheart, you'll love the elegance, comfort, and laid-back atmosphere at Ascot Suites. Visitors who are looking for romantic Morro Bay hotels will love our relaxed charm, and we're within walking distance of a wide array of restaurants, shops, galleries, and entertainment. From rooms with cozy fireplaces and balconies featuring views of the bay to the rooftop sun deck overlooking Morro Rock, we can provide you with the perfect romantic escape. Call us today at 800-887-6454 to make your reservation.