Top 5 Tourist-Friendly Places to Visit in Morro Bay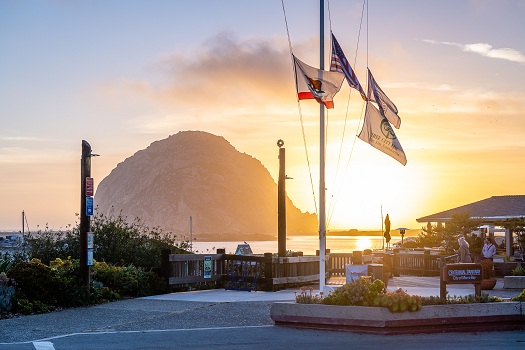 It's perfectly fine to totally embrace being a tourist so you can see all the wonderful things that make a particular destination so much fun. If this is your goal for an upcoming trip to the charming coastal city of Morro Bay, there are plenty of places to add to your must-visit list. Below, the friendly staff from Ascot Suites, a charming boutique hotel Morro Bay visitors return to again and again, highlight five of the most awesome tourist-friendly spots in Morro Bay, CA.
1. Morro Rock
It's hard to miss the nearly 600-foot volcanic leftover that is Morro Rock. Known locally as "The Rock," it's easily the most iconic and recognizable tourist spot in the area. You can view it from a short distance at nearby Anchor Memorial Park, or you can walk directly to it from Morro Strand State Beach. If you have a chance to get up close and personal, look for the nesting peregrine falcons that call this place home. Another option is to take a harbor cruise to check out The Rock and other water-adjacent points of interest.
2. Morro Bay State Park
Accessible by walking or traveling along paved roads designed in a one-way loop system, Morro Bay State Park can serve as a base for a practically never-ending list of things to do during your visit. If you prefer to walk around, you're welcome to snap pics of the harbor and ocean, admire the many native birds here, or casually stroll and relax. You can just as easily get more active at this park, with possibilities that include:
• Hiking along park-accessible trails, some of which take you to higher spots with even more amazing views
• Canoeing or kayaking—local rentals are available
• Camping by the marina at the on-site campground
3. The Embarcadero
If your idea of a getaway is being smack-dab in the middle of a prime shopping and dining spot along the waterfront, look no further than the Embarcadero. As the city's main drag, it doesn't disappoint, thanks to the many highly rated eateries and uniquely appealing boutique shops here. It's also home to Centennial Plaza, which stands out because of its giant outdoor chessboard. Head south and you'll discover a smaller cluster of shops and restaurants by the Morro Bay National Estuary.
4. Morro Strand State Beach
This tourist-friendly beach runs from Morro Rock all the way to the nearby community of Cayucos, and it's a perfect place to view sand dunes and wetlands. Surfing, birdwatching, tide pooling, and camping at the campground are also popular activities here.
5. Montaña de Oro State Park
Natural beauty abounds in Morro Bay, which is why this scenic public space is another awesome tourist-friendly spot worth checking out during your visit. Located to the south of Morro Bay State Park, it's known for its colorful spring wildflowers. There's a beach here as well as a rugged coastal canyon. If you're up for an invigorating hike, spend some time working your way to the park's highest point, Valencia Peak.
When you're planning your vacation, make sure to reserve a room or suite at Ascot Suites, one of the most comfortable Morro Bay hotels available. Our English-style rooms welcome guests for any occasion, whether it's a romantic getaway or a family vacation. Relax and enjoy the coastal breeze on our peaceful rooftop sundeck with stunning views of Morro Bay and Morro Rock, snuggle up in front of your fireplace, lounge the day away on your balcony, or enjoy a long soak in your deep jetted tub. To find out more about our exceptional accommodations and reserve your room, call us today at 800-887-6454.