How to Have a Fantastic Time in Morro Bay during Thanksgiving Weekend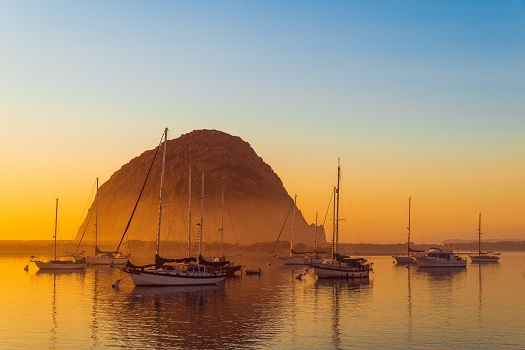 Treat yourself and anyone coming with you to a relaxing, stress-free Thanksgiving break in Morro Bay, CA. If spending some time in this seaside city is already part of your holiday plans, you're in for a truly memorable experience. As for what you should consider doing on Thanksgiving weekend in Morro Bay, we offer several suggestions below.
Make Holiday Meal Reservations
Windows on the Water is one of the local spots that typically serves a Thanksgiving meal in Morro Bay. World-renowned chef Bradley Ogden will also be serving a holiday dinner this year at his Hotel Corque restaurant, so make your reservations if you're up for a day trip to Solvang, which is about an hour away from Morro Bay. If you prefer something closer, nearby San Luis Obispo has options that might appeal to you at places like Mama's Meatball and Granada Bistro. Once you pick a restaurant, just make a reservation in advance of your visit, and you'll be all set.
Cambria Christmas Market
View this post on Instagram
Christmas starts right after Thanksgiving at Cambria. Just 25 minutes from Morro Bay, visit the Cambria Christmas Market beginning November 24 to December 23, 2023. Featuring over 2 million twinkling Christmas lights, a full artisan vendors market, train rides, live music, food and drinks, fire pits, and more, turn your thanksgiving holiday into a magical Christmas getaway. Tickets are already on sale so get yours now at the event's website. Gates open at 5pm and close at 8:30pm.
Community Thanksgiving Dinner
Each year, the Morro Bay community, with the help of volunteers, hosts a Community Thanksgiving Dinner at the Morro Bay Community Center. This year, catch the festivity on Nov 23 from 1pm-3pm. Everyone can come for a free meal and celebrate Thanksgiving with the local residents and visitors alike. Join in the fun and give back to others by volunteering to either serve, cook, clean up, or help facilitate the event. Call the Morro Bay Seniors at 805-772-4421 if you want to sign up and volunteer.
Check Out "The Rock"
You can't miss the most notable feature of Morro Bay once you arrive here, so consider using any time you might have between enjoying other things on your holiday to-do list to check out Morro Rock. An easy way to see this towering volcanic remnant is to go right up to the base at Morro Rock Beach.
Stroll & Shop along the Embarcadero
If shopping is usually part of your Thanksgiving weekend experience, you won't be disappointed with Morro Bay. Offering a waterfront view, the Embarcadero is the main avenue here. It features an assortment of shops and boutiques that offer trendy fashion, souvenirs, and many other things you can pick up for anyone on your holiday shopping list. After your day of shopping fun, grab some hot cocoa and head back for a relaxing evening at your hotel in Morro Bay.
Check Out an Annual Craft Show
Find the perfect holiday gift for your loved ones at the Annual Winter Faire & Juried Craft Show at the Art Center Morro Bay — a 2-minute walk from Ascot Suites. The show will run from November 9, 2023 through December 31, 2023. So, if you're in Morro Bay on Thanksgiving weekend, make sure to stop by and shop. Presented by the Art Center Morro Bay, the exhibition offers a wide array of exceptional arts and crafts made from different artistic mediums. Keep your eye on some of Central Coasts' finest paintings, photo prints, sculptures, pottery, jewelry, and more! 
Pick Up Local Wine to Bring Back with You
If you'll be spending the rest of the holiday season back at home, consider picking up some local wine for your guests while you're here. At places like Chateau Margene and Absolution Cellars, you can even schedule a tasting for a group of friends or family members you may have coming with you.
Go for a Scenic Hike
One of the many things to love about Morro Bay is the ability to enjoy the many wonders of nature even later in the year. This means you can spend part of your Thanksgiving weekend going for a relaxing scenic hike. One way to do this is hiking trails that are accessible from Morro Bay State Park. If you opt for the Marina Peninsula Loop Trail, you'll be able to see natural features that include sand dunes, mud flats, and an estuary.
No matter what kind of Thanksgiving fun you're looking for, Morro Bay is the ideal spot. Whether you're celebrating with your sweetheart or the whole family, you'll find the perfect blend of elegance, comfort, and relaxing atmosphere at Ascot Suites. From rooms with cozy fireplaces and balconies featuring views of the bay to the rooftop sundeck overlooking Morro Rock, we can provide you with the perfect holiday getaway experience. If you'd like to reserve a room at one of the most charming Morro Bay hotels available, call us today at 800-887-6454.